Linkedin Launches Online Daily For Members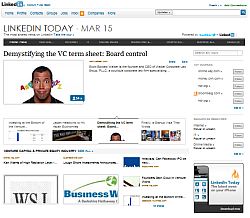 Linkedin.com has launched an online newspaper called Linkedin Today that is customised per user to show what his/her connections on the professional network are reading and sharing.
Through Linkedin Today, users of the network can stay informed on various industries, as well as recieve a weekly email of the top industry headlines. There are 22 industries that a user can track and also filter by company, geography and professional circle.
Linkedin Today has a social spin on news, allowing users to track who is sharing articles through their profiles as well as search according to profile or news item, according to the company blog.
Tweets with articles will also be made available on the service, where members have linked their profiles on the website with their Twitter handles.
Comment(s)