Mobile Wi-Fi Device By Vodafone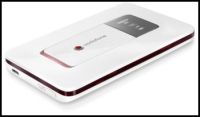 Vodafone Essar has launched Vodafone R201, a mobile Wi-Fi device.
The R201 is a portable mobile Wi-Fi terminal that connects to the Vodafone 3G network via a SIM card, offering speeds of up to 7.2 Mbps. The device's dimensions are 98x62x14 mm and it weighs 90 gms.
"The Vodafone R201 is designed to provide customers with an advantage of connecting and communicating on-the-go. As a result of our innovation effort, we at Vodafone are introducing an exciting range of products to let our customers experience 3G services at its best. R201 is one such device which builds on our leadership, reiterates our promise of providing unique and innovative offerings for our valued customers," said Kumar Ramanathan, chief marketing officer, Vodafone Essar.
The R201 supports up to five users simultaneously and uses a 1400 MAh Li-Ion battery which runs for up to 4 hours.
It is priced at Rs 5,500.
Comment(s)