India Mobile Ad Market Grows 27% For InMobi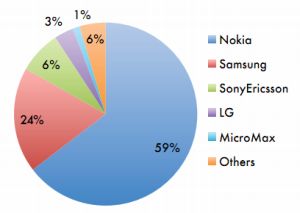 The Indian mobile advertising market for Inmobi, a mobile advertising network, grew by 27% to 1.5 billion impressions between October 2010 and January 2011.
Smartphones contribute to 14% of the Indian market representing over 1 billion impressions monthly compared to 'advanced phones' (such as the Nokia 3110) which represent 6.3 billion monthly impressions, according to a report by InMobi.
"The India mobile ad market continues to grow at a rapid pace. The sheer quantity of monthly impressions highlights the opportunity for advertisers to reach the masses via mobile media. Furthermore, a 44% growth in smartphone impressions and 3G network rollouts indicate the future acceleration of media consumption in the region," said Atul Satija, VP & Managing Director – Asia Pacific at InMobi.
A sharp surge in smartphones and the spread of Android OS to emerging markets have together contributed to the growth of mobile ad impressions globally. The report states that there were 1 billion daily mobile ad impressions across the world, highlighting the importance of mobile devices as a primary means of digital consumption. Which means more users are viewing ads on their smart phones. According to the company, 1 out of every 3 ad impressions on mobiles is on a smartphone globally. Smart phone ads increased by 5.8 billion impressions month on month between October 2010 and January 2011.
Apps have still not been able to overtake mobile web (WAP) when it comes to ads being delivered to users. InMobi reports that 84% of ad requests globally are on WAP (i.e. people browsing the Internet on their mobiles) compared to 16% of ad requests on apps (people playing or using an app). In India, apps account for only 0.5% of ad impressions - a point that marketers and developers need to take into consideration.
While globally Nokia is quickly losing its market share to Android and iPhone OS manufacturers such as Apple, LG, HTC and Motorola, in India it still holds its position with Samsung next. The two manufacturers - Nokia and Samsung - account for 83% of all ad impressions in India.
Comment(s)