Microsoft To Spend 90% Of Research Budget On Cloud Computing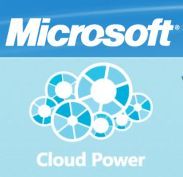 Microsoft Corporation will be investing heavily in cloud computing this year, making "Cloud Power" the tech giant's biggest focus area in information technology.
The Redmond-based Microsoft Inc's President Jean-Philippe Courtois said it will spend 90 percent of its $9.6 billion research and development budget on cloud strategy this year, according to Bloomberg.
Cloud computing or Software as a Service (SaaS) allows users to access business applications over the Internet through their browsers and differs from the traditional software package model where enterprises had to buy software and install them on their servers and computers.
At Convergence 2011 held yesterday, Microsoft announced that it will be launching cloud computing offerings with its next major release of Dynamics ERP solutions, which will run on the Windows Azure platform. It has a marketplace for Dynamics where independent software vendors (ISVs) and partners can showcase solutions, add-ons and services.
In the global cloud computing market, Microsoft currently lags behind pioneer Salesforce.com, SAP and Oracle.
Comment(s)