Bharti's Net Profits Decline 31% In Q4; Full Year Revenues At Rs 60K Cr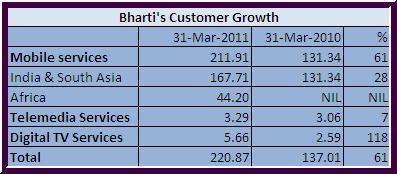 Bharti Airtel's net profits for the fourth quarter of the financial year 2010-11 have declined by 31 per cent to Rs 1,401 crore from Rs 2,044 crore during the same period last year. The net profits for the full year 2010-11 also crashed by 33 per cent from Rs 8,977 crore to Rs 6,047 crore due to increase in net interest outgo (Rs 1,480 crore), forex restatement losses (Rs 683 crore), re-branding expenses (Rs 340 crore) and increase in spectrum charges in India (Rs 265 crore).
However the revenues have shot up mainly due to the acquisition. The company registered consolidated total revenues for the fourth quarter ended March 31, 2011 of Rs 16,265 crore, which grew by 51.3 per cent over last year, of which $924 million or Rs 4,150 crore was contributed by African revenues.
The consolidated total revenues for the full year reached Rs 59,467 crore, which grew by 42.1 per cent year on year, mainly lifted by the African operations. India and South Asia revenues grew by 11 per cent in an intensely competitive market.
The consolidated EBITDA margin for the year was at 33.6% declined by 6.5% over the previous year. This is equally attributable to pricing pressure in India and South Asia and the lower margins in African operations acquired during the year, the company admitted in the statement.
The consolidated operating free cash flow for the full year was Rs 5,704 crore ($ 1.3 billion), while the net debt–equity ratio as at March 31, 2011 stands at 1.23 and net debt-ebidta ratio is 2.83.
In a statement, Sunil Bharti Mittal, Chairman & Managing Director, Bharti Airtel Limited, said: "The new airtel brand has been a tremendous success in all our 19 countries. In India, we have been focusing on building a robust 3G network to meet the increasing data needs of a young population. In Africa, we are rapidly expanding our network coverage, improving distribution width and increasing our efficiency and productivity standards."
Bharti Airtel's overall customer base stands at 220.9 million, across 19 countries, while total minutes on network stand at 240.2 billion; up by 6% (13 billion) over Q3 FY11
Comment(s)