NV 'Tiger' Tyagarajan will be back as Genpact Ltd's (NYSE:G) president and CEO in exactly a month from now. Pramod Bhasin will be stepping down from the role of the company's chief executive and board member, to continue as a non-executive vice chairman. Tyagarajan and Bhasin have been compatriots for over a decade.
Genpact refrained from explaining the move; though Bhasin said in the official statement released by the company that he was "looking forward to other pursuits. "
Tyagarajan is a prolific blogger, and publishes Tiger Bytes, his take on business process innovation. He is also active on Twitter. He says his specialities are team building, global experience, and cross cultural exposure in his LinkedIn profile. He also happens to be a Six Sigma and lean operations master black belt.
Tyagarajan was CEO of Genpact from 1999 to 2002, back when Genpact was still a subsidiary of GE. When Genpact became an independent company, Tyagarajan rejoined Genpact from GE Capital U.S. as EVP, Sales and Business Development in 2005. Four years later, he took on the mantle of Genpact's COO in August 2008.
Tyagarajan is a mechanical engineer from the Indian Institute of Technology, Mumbai, and holds an MBA from the Indian Institute of Management, Ahmedabad. His LinkedIn contact settings says he is interested in job enquiries, but he will probably change that come June.
Pramod Bhasin served as the Chairman of India's National Association of Software & Services Companies (NASSCOM) for the year 2009-10, and is also a member of the Board of Trustees of NASSCOM Foundation. He is also a founding member of the International Association of Outsourcing Professionals (IAOP) and a member of its Strategic Advisory Board. Bhasin also serves as an independent director on the board of NDTV, and is on the governing boards of several educational institutions including IIM Lucknow, and Lady Shri Ram College. Bhasin is a Chartered Accountant (CA) from Thomson McLintock & Co., London, and holds a Bachelor of Commerce degree from Delhi University.
Genpact is the country's largest outsourcing firm. The company has over 49,000 employees and has operations in 13 countries, supporting over 25 languages, and a revenue of $1.26B. Global clients represent 65.9% of its customers, and the remaining business comes captive from GE.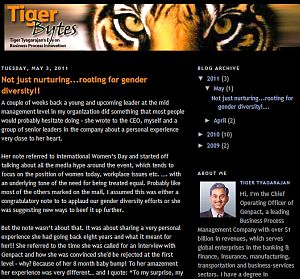 Tyagarajan-speak: I want to take this opportunity to thank Pramod and acknowledge his contribution as the founder and CEO of this company. He has been an extraordinary leader and we have all benefitted tremendously from his leadership and vision over the years. I am hugely excited to lead Genpact. There are tremendous opportunities ahead of us. We are fundamentally improving the way our clients work. We are building a new "Science of Process" and continue to innovate and invest in comprehensive, cutting-edge technology-based solutions. The recent acquisition of Headstrong has given us exceptional high-end capital markets domain and technology expertise. I look forward to working with our terrific team to continue to create exceptional value for our clients and shareholders."
Bhasin-speak: I am delighted to be able to hand over the reins of the company to my long term business partner Tiger. We have worked together for over a decade to build Genpact into a truly global leader. I am confident that he is the right person to take Genpact forward in its next stage of growth. I have been truly privileged to lead this remarkable company and its employees from inception and to have helped create an industry that now provides employment opportunities to millions of people around the world. Along with helping Tiger, particularly in the areas of acquisition integration, organization development and growth in new geographies, I now look forward to other pursuits.
---