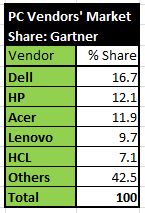 Driven by mobile PCs, sales of desktop and mobile PCs has witnessed a 6.2 percent increase in the first quarter of 2011 over the fourth quarter of 2010 to reach 2.6 million units in India, according to research firm Gartner Inc.
The Indian mobile PC segment grew 23 percent in the first quarter while consumer demand dropped. Vishal Tripathi, Principal Research Analyst, Gartner Inc, said, "There was a slump in consumer demand in the first quarter, so the market did not grow as expected. Enterprise and small and midsize business (SMB) buying helped the market to achieve growth in the quarter. Government buying also contributed, as it was the last quarter of the financial year."
MARKET SHARE
Dell, Acer, Lenovo and HP are the top four vendors in India. Dell accounted for 16.7 per cent of the market, while Acer came second at 11.9 per cent, HP at 12.1 per cent and Lenovo had a 9.7 per cent share. Their combined shipments were 50.4 percent of the total shipments in the first quarter of 2011 while the local vendor HCL had a 7.1 percent share.
Earlier in April this year, Gartner had reported a 1.1 percent decline in worldwide PC shipments in the first quarter of 2011, from the first quarter of 2010.
---