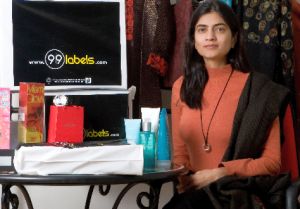 After recently raising $3.5 million from Info Edge India Pvt Ltd, flash sales site 99Labels.com is now looking at adding a bunch of new features and brands, besides expanding aggressively into new markets. Ishita Swarup, CEO and co-founder, 99Labels, tells Techcircle.in how the company has morphed, as she learnt valuable lessons and drove the company's growth. Here are her plans to take the dotcom business to the next level.
How is 99Labels faring? Can you share some statistics on how it is scaling up?
We are currently growing at a rate of 20-30 per cent on a monthly basis. Currently, we are taking around 300-600 orders per day, with an average ticket value of Rs 1,800-Rs 2,000.
What are your plans for the website this year?
Last year, we got fantastic response regarding our concept and the website. It was the year of experimentation and learning for us – as a company and also as a part of a nascent sector. This year, however, it is time to solidify and tighten what has worked for us and move away from what has not. So we are looking at marketing and sourcing well-known brands from across the globe more aggressively. Customer care and delivery have always been our focus and we will continue to strengthen the same by building stronger systems.
What are the new features you have lined up at 99labels?
We have just started a special campaign for all VISA card holders and they can now access a 'members only' site by using the first 6 digits of their cards. Plus, they don't have to go through the registration process.
We are also offering e-gift cards for special occasions like anniversary, birthday and celebration.
Also, our product categories are now well-defined (men, women, kids/home etc.) to ensure easy navigation on the site. A new 'sort' feature allows buyers to search according to availability and size. Going forward, 99Labels will create special shops for our buyers, build a 'special privileges' programme for our regular customers and come up with a lot more features.
How many brands do you have on board? And how many do you plan to introduce by year end?
99Labels has partnered with 350-plus brands, nationally and internationally. Now we are looking at sourcing brands aggressively from all over the globe.
Do you plan to partner with international flash sales sites?
We are in talks with some sites and we can tell you more, once we take a decision.
How many cities do you cover currently? Can you detail your expansion plans and goals?
99Labels has a pan-India presence since we stated operations. We cover more than 200 cities and towns across India – even far-off places like Ranchi, Asansol, Lakshwadeep, Dibrugarh, Hapur, Haldia, Kharagpur, Vishakapatnam and Munnar. The growth focus is on tier 2 and tier 3 towns, as there is a huge potential there.
Towards the end of the year, we will be looking at the NRI domain as well.
How much have you spent so far (burn rate) and on what?
The initial investment was Rs 1 crore. We did not have lots of cash to spend but we did shell out some amount on marketing. A lot of our marketing was tactical; therefore, we didn't burn out a large amount of money and yet managed to reach out to a wide audience. In a way, the financial crunch was a boon that enabled us to think out of the box, be innovative and experimental. We broke some norms in our heads and learnt from some.
What are the important focus areas for investment this year?
We have deliberately held back on marketing for the past few months. But we are now planning to be aggressive and create awareness across the relevant target audience. We are actively looking to source brands and great merchandise from all over the world, in addition to forming key sourcing hubs and alliances. We will also continue to focus on strengthening the logistics and backend operations. We will also look at new growth initiatives towards the end of the year.
You have said that you will now spend on ERP and CRM systems. Can you detail which solutions you will choose and why?
We have a CRM system which we have built internally and are currently exploring possibilities of a strong ERP solution with various vendors. We are unable to share further details.
What are the key challenges you have faced?
The key challenge that we had faced at 99Labels was to convince the Indian consumer to buy online. Getting them to swipe the credit card for a product that they had not seen in person was a big challenge. Therefore, we came up with the 'cash on delivery' option to gain confidence of our patron base.
The lack of touch-and-feel experience regarding the merchandise proved to be a huge deterrent initially. But features like 360-degree view of the product and no-questions-asked return policy helped us connect well with our customers. We have also invested a lot of s in streamlining our logistics and ensuring timely delivery.
What are your hiring plans for the year?
We have fairly aggressive plans to retain people and hire good talent for the organisation. We are currently hiring for senior positions and it will be done in sync with the growth curve of the company. We will not be able to share specific numbers, though.
What do you think of the competitive landscape and what is your USP in this arena?
Having multiple players in the market has helped create a space for 'online shopping' in the fashion and lifestyle category much faster. Competition has kept us on our toes – we have had to innovate continuously to contribute to and establish the pace of the market. I believe our USP is our detailed merchandise selection and impeccable customer care and delivery.
---