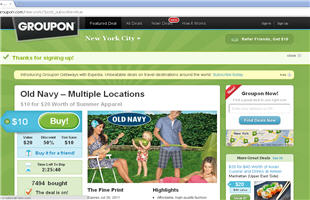 As expected, the world's pioneering daily deals company Groupon has filed for an initial public offering to raise upto $750 million. The announcement comes two weeks after professional networking pioneer LinkedIn went public which saw its shares tripling from the IPO price of $45 only to pare down a third of its gains to trade at $78.63 on Thursday.
According to the financials revealed by Groupon in its form S-1 filing to the regulator Securities and Exchange Commission (SEC), Chicago-based Groupon generated $94,000 in revenue in 2008, which went upto $30.5 million in 2009 and then to $713.37 million in 2010.
What is key is in the first quarter of this year alone (three months ending March 31), Groupon made $644.10 million in revenue, showing a tremendous growth, compared to $44.2 million during the same quarter in 2010. But the company is losing money as it's investing in growth, customer acquisition and global expansion. The company lost about $390 million, excluding acquisition and other costs, in 2010, while it pared another $103 million for the first three months this year. Last year's total loss was $413.4 million, with its cumulative loss coming to $603.8 million.
What could be the likely valuation for Groupon? At the current share price, LinkedIn is valued at 37 times revenue per share (earnings per share is not available as of now). If Groupon is valued at 20 to 30 times its revenues last year, which is widely expected to be by analysts and observers, then the company could be worth roughly $14 billion to $21 billion.
Groupon has not revealed the offering pricing details nor the number of shares that would be issued save the information that it would raise upto $750 million. It has however stated that it would seek ticker symbol GRPN. The company had started previously as ThePoint and later changed its name to what it's called currently.
According to the shareholding details of the company, Eric Lefkofsky, who was a cofounder of ThePoint that originally financed the company, owns 21.6 per cent, and Groupon Co-founder and CEO Andrew Mason owns 7.7 per cent. Another business partner Bradley Keywell owns 6.9 per cent.
Among the institutional investors, New Enterprise Associates, which invested in ThePoint and then invested again after the company had become Groupon, owns 14.7 per cent, while Accel Partners owns 5.6 per cent. CityDeal Management, which Groupon had acquired in May 2010, has 10.3 per cent stake.
---