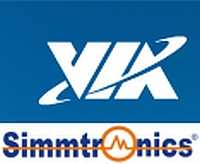 VIA Technologies, supplier of power efficient x86 processor platforms has entered into a partnership with Simmtronics Semiconductors Ltd., an Indian firm (manufacturer of  Memory Modules, Motherboards and VGA cards) for manufacturing Tablets in India, according to tech2.in.
The company has confirmed that Tablets powered by WonderMedia PRIZM SoC (System-on-Chip) platforms will be manufactured by Simmtronics in the country. The company has already set up production facilities at Noida, Uttar Pradesh for the same (the first such unit in India).
The first tablets that will be manufactured by the company will have a 7 inch display screen; they will run on the Android operating system and will be based on the WM8650 platform. The tablets will also have a light and compact form factor. Features included in the tablets will include computing, communications capabilities and smart multimedia.
Headquartered in Taipei, Taiwan, VIA's global network links the high tech centers of the US, Europe and Asia, and its customer base includes the world's top OEMs and system integrators. The company's x86 processor platforms are used in the PC, client, ultra-mobile and embedded markets. This marks an expansion of an existing partnership between the two firms.
Last December, VIA announced the appointment of Simmtronics as its exclusive manufacturing and distribution partner for VIA pc-1 mainboards in India and 15 other countries in the surrounding SAARC, Middle East, and Africa regions.
Under the previously announced deal, Simmtronics will assemble a full range of low-power, highly-integrated VIA pc-1 motherboards in its manufacturing facility in Uttaranchal, India, and distribute the products through its channel partners in India and other markets, including Pakistan, Bangladesh, Sri Lanka, Dubai, UAE, Turkey, Iraq, Algeria, and Ghana.
---