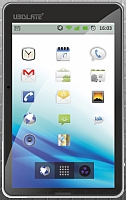 The world's cheapest tablet is here and how! After months of speculations (read here), Kapil Sibal, Minister of Human Resources & Development, Communications  & Information Technology today launched the world's cheapest tablet called 'Aakash'.
The tablet has been designed, developed and manufactured by Canadian firm DataWind Ltd., in partnership with IIT Rajasthan, under the Human Resources & Development Ministry's National Mission on Education through Information & Communication Technology (NME-ICT). Under NME-ICT, the government intends to deliver 10 million tablets to post-secondary students across India. The target price of the 10 million units is Rs 1,750 per unit.
"Our goal was to break the price barrier for computing and internet access. Working with IIT Rajasthan, and NME-ICT, we've created a product that will finally bring affordable computing and internet access to the masses," said Suneet Singh Tuli, CEO, DataWind.
Specifications
Aakash has a 7 inch resistive touch screen display (800x480 pixel resolution) and it runs on the Android 2.2 (Froyo) operating system. It is powered by a 366 MHz Connexant processor with graphics accelerator and high definition video co-processor for providing users with better multimedia experience and faster application support.
The tablet has 256MB of RAM and comes with 2GB of internal storage which is expandable up to 32GB. The tablet also comes with DataWind's UbiSurfer browser which according to the company will accelerate web pages by factors of 10x to 30x. The device has Wi-Fi and supports optional 3G modems. It comes with 2 USB ports.
Aakash also comes with a PDF viewer and has a separate application for online YouTube video. Additionally, DataWind is offering a leather keyboard case along with the tablet which has an integrated keyboard case that helps in faster typing. Also, the tablet makes use of the Nimbuzz application for instant messaging and social networking.
But the battery life of the tablet is a meagre 3 hours which means it will require a charge more than once a day. The dimensions of the device are 118mm x 116mm x 12mm and its weight is 350 grams.
Price & Availability
Although the Aakash tablet is exclusively for students, DataWind will also offer a commercial version called 'UbiSlate' which will be made available by the end of November 2011 at a price of Rs 2,999 ($60) including 12 months of warranty. This tablet will have all the features of Aakash and will additionally include a cellular modem, allowing it to function as a mobile phone. Also, internet access across mobile networks will be priced at Rs 99 for 2GB.
First Impressions
There is no doubt that the tablet cannot be compared to any of the other tablets that are currently available in the Indian market. This is mainly because the tablet scores below average on the power and specifications scale. But having said that, we cannot ignore the price at which it is being offered.
At Rs 2,999, the commercial version of the tablet is more than three times cheaper than the lowest priced tablets available in the Indian market as of now. Some of these tablets include the iBall slide (Rs 13,995), Reliance 3G tab (Rs 12,999), Beetel Teletech's 'Beetel Magiq' (Rs 9,999), Mercury's mTab (Rs 9,499) and S Mobility's Mi-720 (Rs 11,990).
All in all, the potential of the tablet is huge (considering its price) and if it can perform even the basic functions that it offers effectively, the day is not far when we could probably see a tablet in every hand.
---