Google Revamps YouTube; What's New?
Just recently Google, the search giant had revamped Gmail and it's now gone ahead and done the same to its popular video sharing website YouTube (if you have recently visited the website, you will understand what we are talking about). The Home page has been re-designed (Google has used its own colour scheme of grey and white) and all the activity from subscribed channels now appears directly on the home page. Let us explore the changes made to the website in detail.
First of all, when a user logs in, he/she will be able to see the recent activity from their subscriptions. They can also browse and add new 'channels' to their homepage. For adding a channel, users can click on the 'add channels' button on the left side of the homepage (under the advertisement) and then browse the available categories (20 in total, like top blogs, animation, beauty and fashion, automotive, comedy and celebrity and gossip etc) to find interesting channels.
They can then preview the channels content with a click and once a channel is selected, users can subscribe to that particular channel. All the activity from that Channel will appear on the user's homepage.
An option of connecting with Google+ and Facebook has also been provided to the user so that he/she can share their favourites with friends.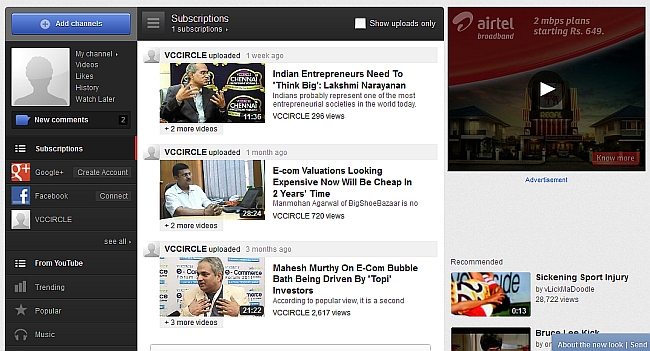 Additionally, channel owners can also personalize their channels by customizing their own featured tab and communicate directly with their subscribers by posting bulletins to their YouTube homepages. They can also use the 'channel feed' as a distribution centre since any content that is shared by the channel owner (like uploads, comments, favourites, likes, playlists etc) is directly posted on their feeds and can be viewed by their subscribers.
There is no doubt that Google has put a lot of focus on the channels. Users can now have more control over their channels and also personalize them as per their liking. The fact that connectivity options with Google+ and Facebook has been provided could mean that Google is looking to make YouTube a globally connected video-sharing site. Although the large advertisement right at the top of the page is a turn off, it can easily be hidden so it's not much of a problem.
Comment(s)