Broadband Subscriber Base Increases To 12.84M
India added 1.5 lakh new broadband subscribers in the month of September to take the total user base of high speed Internet to 12.84 million at the end of September, according to the latest report released by telecom regulator.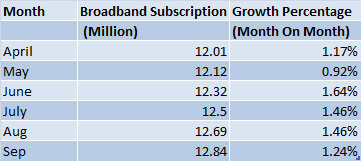 According to Telecom Regulatory Authority of India (TRAI), there has been a growth of 1.24 per cent in September over the previous month (August 2011). Over a longer period of six months the month-on-month growth rate has been fluctuating but over the half year of current fiscal (April-September) it has increased by 8.17 per cent.
The TRAI report also reveals (based on the data submitted by service providers by the end of September) about 2.06 crore subscribers have submitted requests for porting their mobile number and September alone witnessed a submission of 25.70 lakh requests for changing service provider while retaining the number.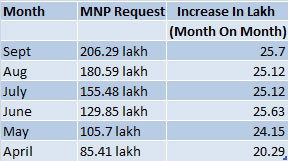 Though the average mobile number portability (MNP) requests have been around 25 lakh for the past few months, September recorded the highest number of MNP request pegged at 25.70 lakh.
Out of the total MNP requests till end of September, Gujarat (20.09 lakh) reported the highest number requests in the MNP zone-I (northern and western India). Following it was Maharashtra (16.93 lakh).  In the MNP Zone-II that includes southern and eastern India, Andhra Pradesh (16.47 lakh) tops the list while the Karnataka circle came second with 16.16 lakh requests.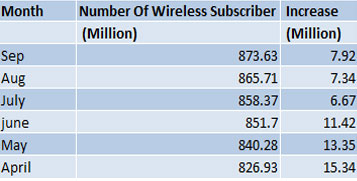 The total wireless subscriber base has risen from 865.71 million in August to 873.61 million at the end of September, registering a growth of 0.91 per cent. But, the growth rate has decelerated over the last six months.
The overall wireless tele-density in the country reached 72.70 per cent. Wireless subscription in urban areas increased from 570.54 million in August to 576.12 million at the end of September. Rural subscription increased from 295.17 million to 297.49 million during the same period.
The urban wireless tele-density has increased from 157.76 to 159.03 and rural tele-density has risen from 35.20 to 35.44.
Comment(s)