Yahoo signs online advertising deal with Google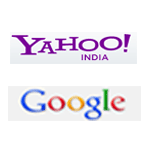 Yahoo has entered into an advertising deal with Google by which the search engine giant will run its ads on some of Yahoo's websites.
As per this 'non-exclusive' agreement, Google ads will appear on various Yahoo properties and certain co-branded sites using Google's AdSense for Content and Google AdMob services.
"By adding Google to our list of world-class contextual ads partners, we'll be able to expand our network, which means we can serve users with ads that are even more meaningful," Yahoo announced in its official blog.
The alliance is expected to be mutually beneficial as it provides Google with additional platforms to run its ads, while it will help Yahoo to get more ads that it can use to fill its many of its web properties, including Yahoo Sports and Yahoo News.
Yahoo said there won't be a noticeable difference  for its users on how or where ads appear.
The move comes seven months after Marissa Mayer, a former top executive of Google, took over as Yahoo CEO.
(Edited by Prem Udayabhanu)
Comment(s)