Payd Software Solutions Pvt Ltd, an incubatee of Kochi-based Startup Village, has launched a payment gateway for businesses which will help them carry out cashless transactions even via feature phones, founder Kannan Nambiar told Techcircle.in.
A bootstrapped startup based in Kasaragod (north Kerala) and set up only a couple of weeks ago by Kannan Nambiar and Rajkumar Nagarajan (both hold B.Tech degree in IT), Payd is currently targeting small and medium businesses who cannot afford to install and maintain an expensive digital payment system.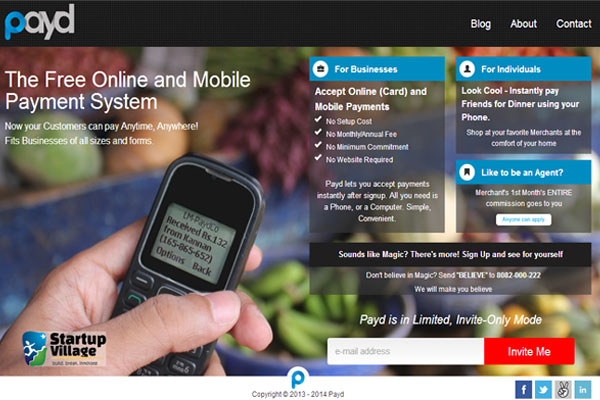 "Setting up a payment gateway can cost you anything between Rs 6,000 and Rs 30,000. In addition, annual maintenance costs can go up to Rs 12,000. To top it all, the paperwork and the waiting period for approval are just harrowing," said Nambiar. "If your business has a website (which itself can cost you a few thousand bucks), you need a programmer to work at least for a few days to integrate and test the gateway. You also need a team who can monitor the entire system. Therefore, businesses usually outsource this part to software consulting firms. This is where Payd assumes importance as you can do it on your own without spending much," he explained.
In other words, unlike existing payment services, you don't have to pay a hefty fee for installation. Registration is completely free and businesses can sign up online and immediately start accepting payments, according to Nambiar.
The product is currently in beta and awaiting RBI approval. "We will launch a pilot with a few select brands in a few cities as soon as we receive RBI approval," said Nambiar.
Payd is also looking to raise around $300,000 in funding, a major chunk of which will go towards completing the regulatory processes with the RBI. Part of the fund will also be used to set up an office in Kochi.
How Payd works Let's say you want to order food from a favourite restaurant which is a Payd client and therefore, has a unique ID – say 450293841 – displayed on its premises and elsewhere. The display would reads like this – Order online via Payd – 450293841.
Once you order the food over the phone and get to know the billing amount, you can simply visit the Payd website, look for the eatery listed there and pay the bill. If that feels like a lengthy procedure, go directly to www.paydco.com/450293841/pay and make the payment. Immediately after the payment, you and the restaurant (including the delivery boys) will receive mobile and e-mail notifications. This SMS/e-mail will contain the order details, as well as a secret phrase. However, this phrase is not required in most of the cases since your name itself should be enough for verification. Just give the delivery boy your name (or the secret phrase) at the time of delivery.
The mobile payment system works the same way. Instead of paying online, you can send an SMS in the format SEND <amount> TO <Payd ID/Phone/Email> from your registered phone (to avail this, you have to be a registered user of Payd). Once that's done, the amount will be deducted from your wallet that you have created with Payd. You can recharge the wallet online or by using Payd recharge coupons which will be available in mobile recharge stores.
Business model The company follows a pay-as-you-go model and charge a nominal fee from businesses for every transaction made by a customer. This fee is automatically deducted from the company's Payd account.
Payd payment system can be used for person-person (P2P) transaction as well but users are not charged for that. "Our initial focus is to increase acceptance among people. So in the early days, individuals can use it for free. They can send money to others and make payments to merchants totally free of cost. But going forward, we will come out with a revenue model in this space as well," said Nambiar.
The startup is targeting the urban population for its consumer-facing payment solution. "Although businesses in India offer several payment options like COD (cash on delivery), online and mobile payment, we are targeting this community as we feel there is more scope for growth in this space," explained Kannan.
In February last year, key telecom player Airtel launched Airtel Money, which facilitates P2P transactions via feature phones and also charge fees for select services. In contrast, Payd is carrier-agnostic and currently offers P2P solutions for free. So the consumer-facing approach may gain it a competitive edge when the product is launched in the Indian market.
(Edited by Sanghamitra Mandal)
---