Smartphone users still prefer websites over apps for shopping; Flipkart most popular e-com site: Nielsen

Although most of the prominent e-commerce sites in India already have their own mobile applications, smartphone users in the country still prefer websites (or mobile versions of the sites) over apps for e-shopping on their devices. Shopping apps are still in a nascent stage here, with just 3 per cent of smartphone users accessing those. On the other hand, 25 per cent of the smartphone users access shopping sites at least once a month, according to a study by Nielsen Informate Mobile Insights.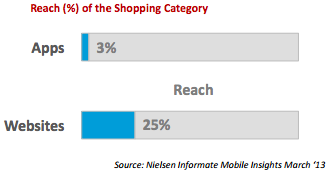 The study, which talks about the shopping habits of smartphone users on their devices, points out that shopping sites are more popular among the older audience (a higher proportion of smartphone users aged over 40 access shopping properties at least once a month) but smartphone users aged between 25 and 35 claim to make more online purchases. About 8 per cent of smartphone users aged between 25 and 35 are engaged in online shopping, compared to 5 per cent users who are aged over 40.
Popular shopping destinations 

Flipkart is the most popular shopping site with a reach of 5 per cent, closely followed by eBay at 4 per cent. Amazon and HomeShop18 are the other two players among the top four. Interestingly, things get reversed when it comes to shopping apps where eBay has the highest penetration (1.3 per cent) of smartphone users who access the app at least once a month, followed by Flipkart with a reach of just under 1 per cent (0.7 per cent).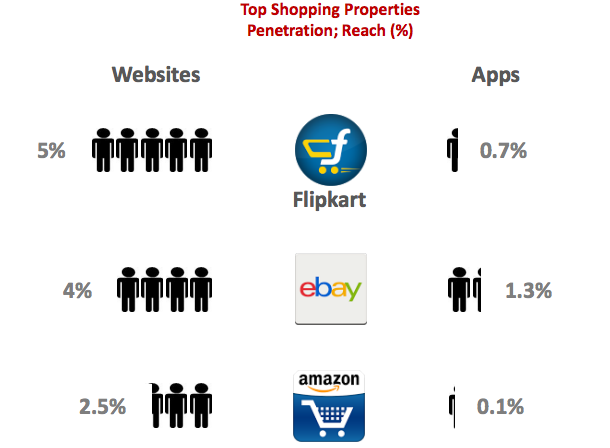 But the fact remains that apps can offer a lot more to a smartphone user, compared to a mobile site (such as mobile wallet, better UI, etc.). Hence, going forward, we should see a better uptake of shopping apps among users. But that will solely depend on how functional and user-friendly these apps actually are, as we have tried a few and faced problems with product discovery itself.

(Edited by Sanghamitra Mandal)
---