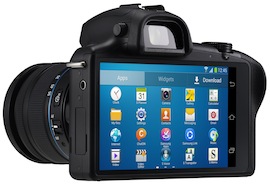 Samsung has unveiled a successor to its original android camera (Galaxy Camera) which was launched by the company at IFA 2012, a consumer electronics show held in Berlin in August last year. The new device, called Galaxy NX, is a connected Compact System Camera (CSC) and comes with a 20.3 mega pixel Advanced Photo System type-C (APS-C) sensor. Just like its predecessor, this one also runs on the Android operating system, which means users get a combination of optical performance, connectivity capabilities and Android applications in one device. Here is a look at the specifications.
The camera has a 20.3 megapixel APS-C CMOS sensor, which the company claims will produce images which are bright and detailed, even in low light conditions. Its advanced hybrid auto focus (AF) system ensures accurate phase and contrast detection for crisp, vibrant shots while the 1/6000 second shutter speed and 8.6 frames per second (fps) shooting let the user capture the action as it is happening. The camera has a built-in, pop-up Flash and can also shoot full high definition videos (1080p) at 25 fps.
Unlike the first Galaxy camera, this one offers a selection of interchangeable lenses that include compact pancake lenses, an ultra-wide fisheye lens, and longer prime & zoom lenses. Additionally, the 'True 3D Creator' enables users to shoot images and movies in 3D (with Samsung's 45mm 2D/3D lens).
The device has a 4.8 inch HD TFT LCD capacitive touchscreen display at the back and runs on the Android 4.2 (Jelly Bean) operating system. It is powered by a 1.6 GHz quad-core processor, has 2 GB RAM and 16 GB internal memory that can be expanded up to 64 GB with a microSD card. On the connectivity front, it has Wi-Fi, Bluetooth 4.0, 3G and 4G (depending on the market), and comes with a microSD card slot. The company has provided a 4,360 mAh battery in the device, which also has GPS (with A-GPS support). The dimensions of the camera are 136.5mm x 101.2mm x 25.7mm and it weighs 495 gm.
Additional features
Photo Suggest: Provides location-based recommendations of popular photography spots, sourced from a library of images captured by fellow photographers across the world.
Story Album: Displays the pictures taken on one timeline, reframing and resizing them to create digital photo books that can be viewed and shared on other devices.
Multi Exposure: Merges two different shots to produce one distinctive image while Animated Photo connects continuous shots of up to five seconds, creating a moving GIF file.
Sound & Shot: Stores sound and voice together as the picture is taken, so that moments are captured exactly as they happened.
Camera Studio: Allows users to customise settings with their most frequently used applications or camera modes. Additionally, over 30 'Smart Modes' let users choose the optimum settings for the environment they are capturing.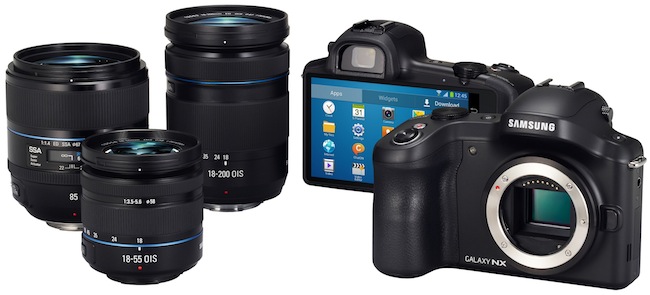 Other features include Group Play, S Translator, the Samsung Hub that provides a single entry point for Samsung's contents and services, its instant messaging app ChatON and a suite of Google apps (read here to know more about these features).
In comparison, Galaxy Camera sports a super bright 16 MP BSI CMOS sensor and 21x super long zoom. It also features the 'Smart Pro' technology, a series of modes that make professional-looking photography easy for anyone. The camera has the Android 4.1 Jelly Bean OS, is powered by a quad-core processor and comes with two connectivity options – a 3G+Wi-Fi version and a 4G+Wi-Fi version. While the device has a 4.8 inch HD Super Clear LCD touchscreen, users also have an alternative 'Voice Control' option that allows them to control a number of functions such as 'Zoom in' and 'Shoot', via voice command. The camera includes a set of 35 photo-editing features. Read here for detailed specifications.
While the Indian pricing and launch date are not available yet, keeping in mind the pricing of the original Galaxy Camera (Rs 22,990), we expect this one to cost Rs 25,000-Rs 35,000. Interestingly, Samsung has launched Galaxy S4 Zoom last week, a new device that combines the latest Galaxy S4 smartphone with advanced photographic capabilities. And this one comes with a 16 mega pixel camera (read here to know more). We feel that Galaxy NX will primarily interest photographers, but if you really want a good camera in a compact, smartphone shell, you can opt for the S4 Zoom.
---