Delhi-based Le Travenues Technology Pvt Ltd, which runs travel search engine service ixigo.com, is looking to double its monthly unique user-base to two million from the current one million by February next year.
Almost 90 per cent of ixigo's page traffic comes from India, according to its co-founder and CEO Aloke Bajpai.
"Our trip planner product has been growing at a double-digit rate every month. We enable around 1,500 transactions a day on third-party sites, through referrals from our site," Bajpai said.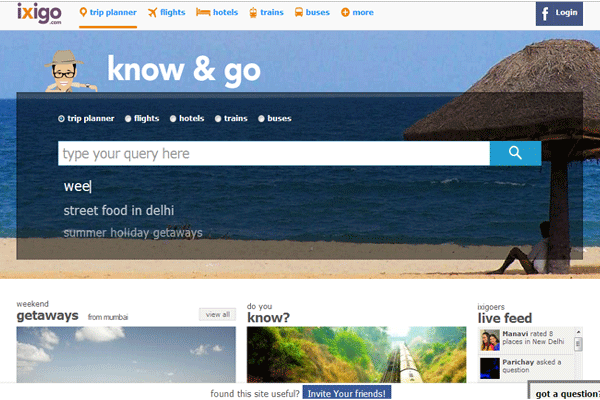 ixigo, which recently rolled out two mobile apps—'On the Way' and 'myPNR'—targeting the travel community, looks to reach one million downloads across all its apps by the end of this year. On the Way targets on-road travellers looking for handy information on restaurants, petrol pumps, ATMs and more on the route, while myPNR is an app for automatic tracking of flight and train status.
No new revenue streams
According to Bajpai, who co-founded ixigo along with Rajnish Kumar in 2007, the firm is focusing more on adoption for its apps and is not thinking of monetisation for now. "We will continue to focus on our web-based products. Our aim is to become the most relevant company for any travel-related needs in 12 months. However, we will think of monetising products once we get a good user base."
The firm currently generates revenues through lead generation to travel sites as well as from advertising.
For ixigo, which currently employs 50 people, mobile traffic is showing growth at a double-digit rate month on month. Bajpai feels that most OTAs will focus on mobile, as online bookings through handsets are growing fast in India. He also pins hope on an increased frequency of local as well as foreign trips by Indians. "People are taking more frequent and shorter vacations in every two-three months. This is definitely good news for us." The company is not eyeing global markets, at least for now. According to the firm, there are enough problems to solve in the domestic market itself.
Tough market conditions
Bajpai said online travel space has been going through a tough time for the last few quarters. "The number of air passengers hasn't grown much due to unfavourable market conditions. As a result, online booking volume has come down in the last fiscal." He hopes that after AirAsia launches its operations in the country and the Jet-Etihad deal is completed, the online travel space will 'kick off' again.
According to Bajpai, the OTA space in India will see consolidation in the next few years and only two-three players will survive. "I don't think there is any room left for new players in this space. I strongly feel that we will definitely reach a point where the existing players cannot grow further. Some of the smaller or mid-sized players will either get acquired or will have to shut down operations. However, we are not actively looking at M&A now."
Not seeking more funding
ixigo, which received $18.5 million from early stage VC investor SAIF Partners and NASDAQ-listed OTA MakeMyTrip in 2011, has enough cash to sustain and is not in a hunt for more funding."We still haven't used a major part of the funding. So far, we have focused entirely on product enhancement for trip planner and our new mobile apps suite."
The ixigo founder declined to share the revenue figures, but said that on a revenue per employee basis, it is probably among the leading players operating in this space in India.
Prominent names in this segment include Yatra, MakeMyTrip, Cleartrip, HolidayIQ and Via.com.
---