Global Payments, Dialog Axiata partner to launch mPOS solution in Sri Lanka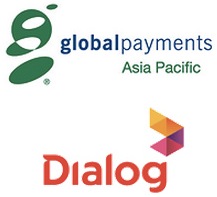 Global Payments Asia-Pacific Ltd, a leading card payment processor and Dialog Axiata PLC, a telecommunications service provider in Sri Lanka, have partnered to launch a mobile payment solution that turns a smartphone or tablet into a mobile point-of-sale (mPOS) terminal. According to the company, it is the first of its kind offering in the Sri Lankan market, and will enable merchants to accept card payments beyond the regular payment methods.
With the solution, small and medium enterprises (SMEs) can accept MasterCard and Visa card payments through a smartphone or tablet. For the same, merchants need to download a free app provided by Global Payments on their mobile device and connect it to a secure card reader to start accepting card payments instantly. The app is compatible with both iOS and Android platforms and comes with multi-level security measures to protect customer data from being stored on the card reader or the mobile phone.
Dialog Axiata, a subsidiary of Axiata Group Berhad, is a leading mobile telecommunications network in Sri Lanka. The company claims to be delivering advanced mobile telephony and high speed mobile broadband services to a subscriber base in excess of 7.8 million, via 2.5G and 3G/3.5G and 4G networks. The company will be the first telecommunications provider in the country to adopt this new technology for its mobile sales team, while other businesses can also sign up for the service through Dialog Axiata or Global Payments. In addition to the new mPOS solution, Dialog Axiata will offer mobile phone devices at an affordable price and special data packages.

"We believe this is the latest step in a series of progressive developments for the mobile payments market, and has the potential to open up an entirely new customer base for SME businesses," said Fariq Cader, senior general manager, mobile money and payments at Dialog Axiata.
The service will help merchants on the go—such as businesses with mobile sales force, home delivery services and outdoor sales operations—in capturing instant purchases. Customers can also enjoy added payment convenience as they can now make card payments where they were previously not accepted.
Global Payments, a division of Global Payments Inc., currently serves merchants in 11 countries and territories across Asia. It provides electronic transaction processing services for merchants, independent sales organisations (ISOs), financial institutions, government agencies and multi-national corporations located in the US, Canada, Brazil, Europe and the Asia-Pacific region. Apart from India, its Asia Pacific footprint includes Brunei, mainland China, Hong Kong, Macau, Malaysia, Maldives, Philippines, Singapore, Taiwan and Sri Lanka.

mPOS in India
A number of homegrown companies offer mPOS solutions in the Indian market, many of which also plan to expand (or have already expanded) to international markets; probably Sri Lanka can be one now.
These include Bangalore-based mobile payments service provider Ezetap Mobile Solutions Pvt Ltd, which had recently launched a mPOS device that costs under $50 and is compliant with the new RBI guidelines.

Mumbai-based mPOS startup Mosambee will soon launch a new B2B mPOS EMV device for merchants, enabling chip and pin swipe at the merchant end.
Mobile POS startup Mswipe is also developing a business-to-consumer (B2C) pin-input swiper, and plans to raise Series B funding by 2013 end.
In June this year, mobile VAS firm Mahindra Comviva had launched payPLUS, an mPOS solution aimed at SMBs and service professionals to enable mobile point-of-sale transactions with the help of an app and a mini card reader which supports feature phones as well as smartphones.

(Edited by Joby Puthuparampil Johnson)
---