App Tracker: Scandid enables price comparison via barcode scanning; not much to offer unless lifestyle and groceries are added to list

We are back with our app tracking section. This time we have reviewed a new app on the block. Scandid, a barcode scanning app launched from the house of price comparison site Shoppingwish, lets users scan barcodes and instantly gives a list of online stores offering products and their offered prices.
What does Scandid do and how?
Post installation, one can straightaway start scanning—no email registration etc. required. It scans instantly and gives a list of portals offering the product. Alongside the name of the online store there is also an icon that tells if any offers/coupons are available on that site. The app is quick and easy to use. Users can also type in a product and see results. We tried the barcode scanner on a book, a mobile handset and apparel. It didn't give any results for apparel but results came instantly for the book and the handset. For 'type search', we tried by putting in various items like hair dryer, iPod, earphone and it worked every time. Since the app is new, it is offering promotional gift coupons to the users.

If the barcode scanned is not in their database or the app fails to find matching products it asks the users to try and type the product.
One main problem as of now with the app is that if you are out and you want to use the app it will work in case of books. Since the barcode is printed on books anyone can scan it and check competitive prices in real time. In case of electronics and mobile phones, the barcode is printed on its box and unless you plan to ask the shopkeeper to show you the box and then scan the barcode, this app is not of much use.
Trend-wise barcode scanning is quite popular globally with apps like ShopSavvy and RedLaser barcode scanning apps. Back home, eBay India app also supports barcode scanning. Though the market is overflowing with barcode scanning apps like QuickMark Barcode Scanner, Barcode Scanner, ScanLife Barcode & QR scanner and more, Scandid seems to be one of a few Indian apps out there.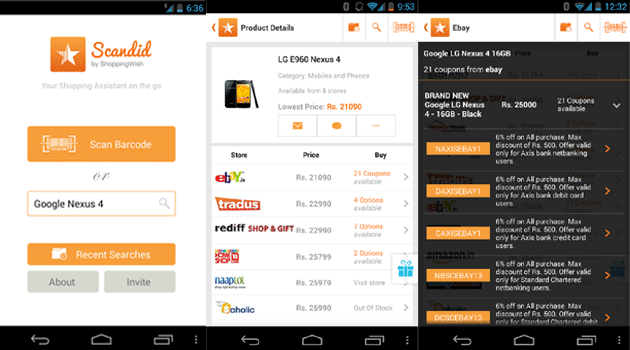 Takeaway: The app is good but not without a few bugs; sometimes it hangs and shuts itself. Also, once the company expands the barcode scanning to daily utilities then it could be of some real use.
TC rating: 2.5/5

That is all for this week's edition of App Tracker, but keep track of this space for your weekly dose. In fact, if you find an interesting app out there and want it reviewed by us, you can send us a 'tip' at editorial@vccircle.com. And for all those startups that want their apps featured on Techcircle.in in the future, you can also send in your requests, along with a brief descriptor of your apps to the above mentioned email id. Till next time, keep tracking.
(Edited by Joby Puthuparampil Johnson)
---