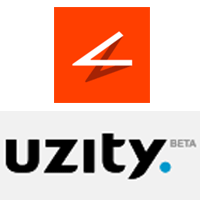 Bangalore-based ERP solutions startup Foradian Technologies, which provides a cloud-based education solution Fedena, has rolled out a learning management system called Uzity that helps users create an 'online university' and run their own massive open online course (MOOC) for free. Uzity provides the tools and features required to run the learning activities of an organisation of any size, which can then invite teachers to create online courses and learners to attend them.
How does it work?
A user can sign up to Uzity and create an account. He/she can upload a profile picture and include a URL to link the account to his/her Twitter or Facebook profile. Using the various tools provided on the platform, the user can create an organisation online where he/she needs to provide the details of the courses offered. Once the organisation is published (after the necessary approvals from the Uzity team), the user can invite people to join the course.
The user can also invite some collaborators who will act as teachers and add content to the courses. Once they join, he/she can make some of them responsible for the administration of the organisation. The teachers or the collaborators can also add the topics for each course and create content for the same. Once the content is ready, the user can invite learners either through the 'people tab invite' option or send out the URL to potential learners/students of the organisation and courses. The platform also offers features that help teachers and students participate in various discussions online.
According to co-founder and CEO Unni Krishnan Koroth, Foradian closed the previous financial year at a little below $1 million in revenues, and is now expecting 200 per cent growth by the end of this financial year. A major chunk of revenues come from the markets outside India that includes Africa and Latin America. Foradian was founded in 2009 by Koroth, Abdullah Hisham, Viswajith A, Arvind GS, Abdul Salam and Arun Raveendran. Its flagship product Fedena is a free and open source web application for schools and colleges that manages systems and processes related to students, teachers, employees and courses. More than 40,000 institutions are using Fedena.
A bootstrapped startup to date, Foradian is not actively seeking funds right now as it is very comfortable and running in a good profit and cash balance. "But we are getting funding offers. So anything can happen over the next two quarters," Koroth concluded.
(Edited by Joby Puthuparampil Johnson)
---