In our last App Tracker, we reviewed Indian e-commerce major Snapdeal's iOS app, but this time around we decided to go global. Amazon.in, the marketplace launched in India by Amazon Seller Services Pvt Ltd (part of Amazon.com), kicked off in June this year with just two categories—books and movies & TV shows.
Currently, the site offers over nine million books and 1.7 million eBooks, and over 1.4 lakh products. These are offered in 12 categories, including books & e-books, movies & TV shows, the Kindle family of e-readers & tablets, mobile & tablets, computers & accessories, camera & photography, audio & video, beauty & health, toys & baby products, fashion jewellery, watches, and home & kitchen.
While the company already had an Android app (launched in Oct 2013), it recently came out with its iOS app for iPhone and iPad users in India.
"Following the encouraging response to Amazon's shopping app for Android phones, we are now excited to launch the Amazon app for our customers on iPhone and iPad," said Amit Agarwal, VP, and country manager, Amazon India.
We took the iOS app for a spin, and here is what we found:
The app enables customers to search & browse for products, compare offers and make purchases. New customers can sign up for an account using the app, while existing customers can login using their Amazon.in username and password to access the same account that they use on the website. In addition, customers already using the app for other international Amazon stores can simply switch the country to India and shop on Amazon.in.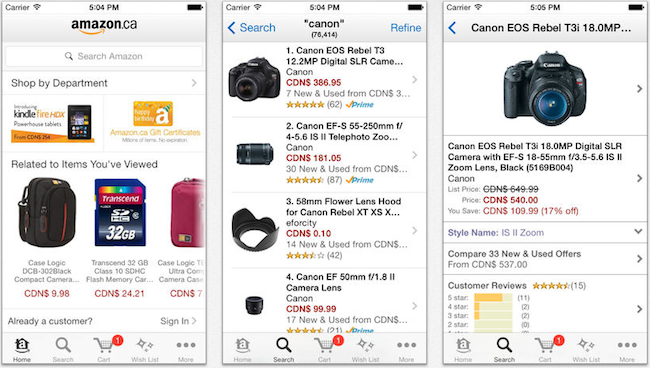 The first thing you will see when you launch the app are recommended products (from Amazon), as well as products related to the items you have recently viewed. A dedicated search bar allows users to search for products by entering their names, or by scanning a bar code. You can also shop by departments—the ones offered include baby, beauty, books, computer & accessories, electronics, fashion jewellery, home & kitchen, Kindle store, movies & TV shows, toys & games and watches.
Users can add products to their shopping carts, or view product wish lists of family and friends. They can also create a wish list of their own by providing it a name, adding products to it, and choosing its privacy (public, shared or private). You can also view recommendations and customer reviews for popular products, or make recommendations of your own.
Once a product is selected, you can make payments for the same via credit/debit cards or opt for cash on delivery (COD). Note that net banking is not supported on the app. After an order is placed, users can view/track them via the app, or also make cancellations for the same. Detailed history of orders placed in the past six months has also been provided.
Takeaway: A clean app with a no-nonsense approach. The uncluttered UX and the lack of colours in the app actually add to the overall experience.
TC rating: 3.5/5
iOS rating: 3.5/5
That is all for this week's edition of App Tracker, but keep track of this space for your weekly dose. In fact, if you find an interesting app out there and want it reviewed by us, you can send us a 'tip' at editorial@vccircle.com. And for all those startups that want their apps featured on Techcircle.in in the future, you can also send in your requests, along with a brief descriptor of your apps to the above mentioned email id. Till next time, keep tracking.
(Edited by Joby Puthuparampil Johnson)
---