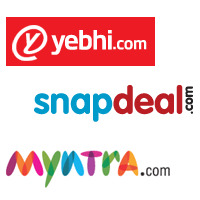 The second edition of the Great Online Shopping Festival (GOSF) proved to be quite successful for many e-tailers. Leading e-com players, including Myntra, Snapdeal, and Yebhi.com saw increased sales and consumer engagement, compared with last year.
Snapdeal, one of the leading online marketplaces in India, saw a 10x increase in sales at GOSF 2013, compared with last year. "Last time, majority of our sales (66 per cent) came from metro cities, followed by Tier-1 (17 per cent), Tier-2 (9 per cent), and Tier-3 (8 per cent). This time around, Tier-wise sales distribution was more homogenous, with 34 per cent sales coming from metro cities, followed by Tier 1 (22 per cent), Tier 2 (25 per cent) and Tier 3 (19 per cent)," said Sandeep Komaravelly, VP (marketing) at Snapdeal.com. This year, Snapdeal offered discounts of up to 75 per cent across various categories, and it saw more than 70 per cent of its sellers actively participating in GOSF.
Leading fashion apparel e-tailer Myntra also experienced a multi-fold increase in sales at GOSF 2013. "This year was far bigger than last year in absolute terms and also in percentage growth. During the three-day period, we witnessed over 100 per cent jump in traffic and 3.5x growth in revenues. It indicates that the concept of online shopping in India is fast gaining traction, and consumers are highly responsive to such initiatives," said Vikas Ahuja, CMO, Myntra.
Ahuja said Myntra's core categories—apparel and footwear—continued to be the key drivers for the firm this year as well. "We were well-prepared to manage the increased load on the site. We had well anticipated the increase in transactions and geared up our infrastructure and capabilities to meet the increase in demand," he said.
Yebhi.com, a leading horizontal e-tailer in the country, received many first-time users during the sale. "The traffic to our site increased 50 per cent which had a positive impact on the sales and orders," said Nikhil Rungta, chief business officer at Yebhi. "The number of orders rose to 6-8 per minute and the top selling categories during the sale were shoes, apparels, home furnishing, electronics and accessories," Rungta said.
In Rungta's view, platforms like GOSF will push people to try new avenues in India, where online shopping is just a small per cent of the total sales. "One of the biggest evidences of the success of the festival was the one day extension, simply to accommodate the vast online shopping demand. We can see the festival getting bigger every year."
The online shopping festival created a lot of buzz on social sites as well. According to Airwoot.com, a social media listening and analytics platform, there was a 10x increase in engagement on social sites vs last year. A total of 125,000 tweets were sent and 2 million people on Twitter heard about the event. Flipkart received the highest engagement on Twitter, with 13,000-plus mentions, while Shopclues and Ebay India ran Twitter campaigns throughout GOSF and got significant engagement.
Customer support queries also surged to 3x, and GoIndigo, Flipkart and Myntra generated the maximum buzz on social media.
"GoIndigo was the fastest brand during the GOSF, with 25 minutes average response time to any customer query, followed by Paytm (35 minutes). A few brands pre-empted the surge in volumes and had setup 24x7 dedicated support. These included GoIndigo, Paytm, Flipkart and Airtel. According to our analysis, GoIndigo turned out to be most customer-centric brand at GOSF 2013," said Saurabh Arora, co-founder, Airwoot.
GOSF was introduced in December 2012 and more than 90 e-commerce sites partnered in it (along with Google) to provide discounts and deals to customers. Last year, it was a one-day festival which created a stir but only for a short period of time. This time around, GOSF planned a three-day festival, but extended it by one more day, thanks to the huge response. In addition, active campaigning by online retailers across the country brought in a lot of eyeballs and conversations about the festival.
(Edited by Joby Puthuparampil Johnson)
---