Delhi-based CRM startup ClinchPad aims to simplify tracking & managing of sales leads for small teams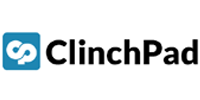 Software developer Cheenu Madan created a task management solution for Indian architects but never marketed it, because he realised there was a better opportunity in the CRM space. It was with this belief that he set up ClinchPad, a CRM application for tracking business leads in June 2013.
"There weren't any applications catering to the needs of business owners with small teams as all the CRMs in the market were targeted at enterprises. We loved using Trello for project management and decided to take their philosophy to tracking leads, building what we feel like is the world's simplest CRM," said Madan.
The primary focus of the platform is on managing the sales pipeline through a visual interface. Rather than large sales teams, the application is targeted at small teams of up to 33 people as well as freelancers who need something simple to manage their business leads. Bootstrapped with the founder's savings and a little help from the family, the startup was also mentored at GSF Accelerator where they encouraged several companies to adopt ClinchPad's technology.

"We got a lot of crucial feedback from them and iterated the product," said Madan, adding that the accelerator and the company share a common vision of being focused on global markets. Like most startups, ClinchPad also faced the challenge of altering people's behaviour. "We are trying to bring a paradigm shift in the mindset of spreadsheet users by making them understand that CRMs can be very simple and intuitive to use and offer them a lot of benefits by taking a structured and collaborative approach. To make this transition frictionless, we intend to keep our application very simple," Madan said.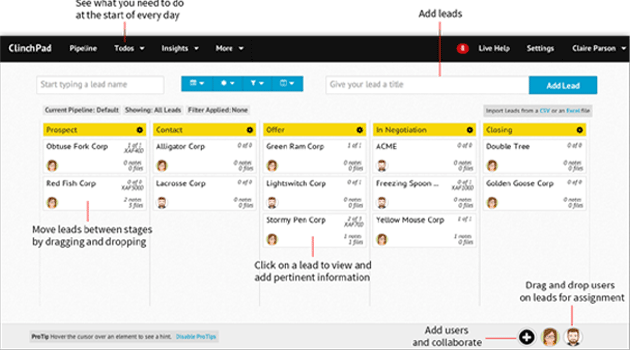 Also, while many would say that customer is the king and products should be customised for them, Madan has learnt the importance of saying 'no'. "It can be tempting to implement every feature request you get from your early users. But with every feature request you implement, the application becomes more complicated. Hence you need to set the vision and evaluate each feature request to see whether it fits that vision or not," he said.

In terms of competition, there are a number of players that offer CRM solutions, including Salesforce, Pipedrive, ZohoCRM and Highrise. "But if you compare the pricing plans of Pipedrive and ClinchPad, you'll see we are significantly cheaper than them. It is free to get started with ClinchPad (up to 100 leads), while in Pipedrive, it is $14 a month," he said. "This usage-based free plan has a big advantage over a trial period since it allows startups to try it extensively. Also, when companies are just getting started, it is very likely that they won't start paying us until their business reaches a level where it starts generating revenue," he added.
Among the paid model, the bronze plan allows a single user to store up to 2 GB of customer data and is priced at $9 per month; the silver plan allows five users to store up to 5 GB data and is priced at $19 per month; the gold plan allows 15 users to store up to 10 GB data and is priced at $49 per month; and finally the platinum plan allows 33 users to store up to 20 GB and is priced at $99 per month.
While in the beginning the company got early adopters from the US and the UK, of late it has received a lot of enquiries from Indian startups particularly in Tier II and Tier III cities. "Of the 1,500 subscribers, about 90 per cent are from the UK and the US and the remaining from countries around the world. The company is growing at 10 per cent week-on-week and we hope to sustain this growth rate throughout 2014. We still focus a lot on getting feedback from our active users and use that to improve the product. We are also expanding our team and are hiring a full stack of web developers and marketers to fuel the growth," he concluded.

(Edited by Joby Puthuparampil Johnson)
---