Mumbai-based Genext Students provides supplementary study material to school students, wants to make learning fun via mobile apps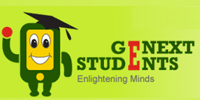 Mumbai-based Genext Students was started to provide students after school support with a confluence of technology and education, particularly targeting those up to the 12th grade, which comprises around 289 million school-going students.
The founder duo of Ali Asgar Kagzi and Asad Daud had both earned master's degrees in management from London School of Economics (LSE), UK, and saw how effectively technology was being used as an enabler of education in the country. It was this that led them to decide to replicate some of the learning techniques for students in India. According to Kagzi, Indian education market is pegged to be worth $42 billion by 2015 and will be a whopping $135 billion by 2020.
Providing easy learning options

Started in February 2013 with a focus on web-based learning, the founders soon realised that the mobile platform held a much greater potential. Presently, students of classes 1-12 from CBSE and ICSE (English medium), and Rajasthan and UP Board (Hindi medium) can have access to mobile tutorials along with features like study notes with explanation of topics and solutions of question; game based learning module for every topic called NABUmania; sample papers with collection of past years' papers; video library; e-books and note pads. There is also a progress checker dashboard that shows the level of study progress.
Generating revenues through multiple channels
Monetisation has been the biggest challenge for the company. To sustain future growth, the company has come out with multiple revenue channels to distribute its data. "The customers can directly purchase our products and make payments online or offline. We have also partnered with hardware manufacturers like Samsung to offer our apps as a value addition to their tablet and smartphone devices. The consumers can also pay directly using their mobile balance. India has very limited credit card users and many of them are averse to using their cards for payments on mobile apps. We have joined hands with telecom operators like Airtel and Vodafone to offer mobile billing solution. We are also targeting revenues through advertisement on our mobile apps," Kagzi said.

As of now, the company is earning revenues through three packages—the full package for any class is priced at Rs 1,599 per year per class; study package for a subject starts from Rs 250 per year per subject; and study package for a single topic or chapter starts from Rs 30 per year per chapter.
Sustaining growth
"By launching these services, our paid customers have increased by more than six times since November 2013. By the end of December 2013, we had around 1.1 lakh online visitors and close to 50,000 mobile app downloads," Kagzi said. "We have over 5,000 chapters, 10,000 videos and 1 lakh questions to practice. To gather and implement this, there is a combination of 11 in-house professionals as well as outsourced players," he said.

While the company was initially focusing on creating the desired product and delivery infrastructure, since that is in place now, it has shifted its focus on aggressive revenue growth. The market size itself is huge and offers great avenues for future growth. "We will also continue to enhance our existing features and add new products. We will also continue building on our strategic alliances. Talks are on with multiple smartphone manufacturers and telecom operators and we hope to successfully close them soon," said Kagzi.
While physical tuition classes are their biggest competitors, there are also many players in e-learning segment including Meritnation.com, Topperlearning.com, and Edurite.com. "As of now, we are the only mobile application for Hindi medium students. Besides, our competitors have already made capital investments of Rs 65 crore, while we have invested less than Rs 2 crore till now. Hence, there is no way they can be more price competitive," he said.
(Edited by Joby Puthuparampil Johnson)

---