A look at the 8 startups selected for Techcircle Runway and what they offer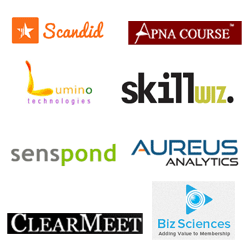 Indian startup ecosystem is at an inflection point and experts opine that India is fast catching up with the Silicon Valleys of the world. Indian entrepreneurs are scripting history not only in the domestic markets but also overseas, and are fast scaling up.
We provided a platform for the startling startups in the country to showcase their products to some of the leading investors as well as other industry experts gathered at the Techcircle Startup 2014. Here is a sneak-peak at the eight ventures who presented at the Startup Runway.
Scandid: A barcode scanner-based shopping app which helps users find the best deals on products from online and nearby local stores. Just scan the barcode present on the product box or search by product name and one can instantly see the prices and coupons from all online stores.

BizSciences: It offers a mobile affinity marketing app called Pointize that provides non-competing merchants an ability to access proprietary customer databases of other large brands via an in-app presence within the existing or new apps of other major brands.
Aureus Analytics: It offers an integrated Big Data platform which allows business users (CXOs, Analysts) as well as data scientists derive meaningful insights from enterprise structured & unstructured data sets available both internally & externally.
SkillWiz: It offers a career analytics product called SkillWiz that helps college students and working professionals evaluate their functional skills and map their competencies to opportunities in the corporate world. This product helps with skill assessments, gap analysis, matching skills with industry roles, competency benchmarking and comparison with peers and overall smarter career decision making.

Lumino Technologies:  It offers a mass personalisation tool that can measure emotions and elicit mindset insights using voice.
Clearmeet: It offers an easily deployable high-definition video conferencing endpoint designed to handle tough network conditions and work well even on mobile/broadband networks. It comes bundled with cloud service which eliminates the need for expensive on-premise infrastructure deployment.
Senspond Systems: It offers a Big Data based smart sense and smart respond platform on the cloud to enhance smart security, operational efficiency and energy efficiency.

Spearhead EduOnline: IT offers a product called ApnaCourse, an online MOOC (Massive Open Online Courses) platform for globally-recognised certifications for free. Its domains include financial management (CFA, FRM, etc), project and quality management (PMP, ACP, etc), IT Services and security management (ISTQB, CISA, etc) and miscellaneous ones like Business Analysis.
(Edited by Joby Puthuparampil Johnson)
---