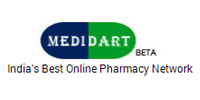 If the answer to the question 'is the sector gearing up for some changes?' is a big NO, there is a huge opportunity in the space for you to tap into, claims Shravan Kesarla, co-founder and director of Medidart.com, a platform that enables end-consumers to upload their prescriptions and get pharma products delivered to their doorsteps.
In a world where buying has become an experience, and convenience has taken precedence over loyalty to a particular shopkeeper, Kesarla realised that pharmacy was the only sector in India that had not kept pace with the rest of the retail segments. Thus, the idea for Medidart was born.
Integrating technology to scale up family business
There's another reason why the founder picked the pharma sector. He claims to understand the sector very deeply. Kesarla (28) has been a witness to the transformations in the sector as his family ran a pharmaceutical distribution firm and chemist named 'Vijaya Medical' in Bangarpet, Karnataka since 1979. He drove home the point that technology can enhance the business and personally coded an automation software and business intelligence tools for the firm.
"The paradigm shift in the way we worked paid-off and we grew from Rs 2.4 crore per annum to Rs 10 crore within span of three years. This made us realise that if trade business in one city—when enabled with technology—can scale 400 per cent, then why limit it to any geographic boundaries," said Kesarla.
However, it was when he met Kiran Divakaran, who had prior experience of running a tech company that changed the goal. "So, it's actually a 'one factor lead to another' case that led to what is today known as Medidart. While the traditional market size is around Rs 60,000 crore per year, the online market remains largely untapped," added Kesarla.
The co-founders started developing the product with a seed capital of Rs 15 lakh from their personal savings in August 2012 and finally launched the product about a month ago. As of now, the company has 10 Medidarters who operate from a small town called Kolar Gold Fields (KGF) in Karnataka. While the platform is in its beta stage, the company has already set up a fulfilment centre in Bangalore and a call centre in KGF.
What's it all about?
The platform works on the marketplace model and presently its distribution partner is Vijaya Medical. It has a simple interface that mimics the experience of buying from a traditional pharmacy. Customers can upload prescriptions, confirm the medicines and the quantity required, post that the medicines are delivered to their doorstep.
According to the founders, there is a team of qualified pharmacists that conduct various checks for every uploaded prescription for incompatibilities and adverse drug reactions (in case a doctor has made some blunder), before digitising them and confirming the order. The platform is also armed with a reminder mechanism for its suppliers on the availability of medicines in the backend to ensure that they don't run out of their medicine supplies.
Additionally, every delivery is accompanied by an invoice mentioning the matching batch number and expiry date of the medicines supplied. Consumers can also take printout of every invoice copy purchased from the portal. The founders claim that it is the first pharmacy network to introduce product recall alert system, in which if a particular batch of medicine fails the prescribed tests by the drug department and is recalled by the manufacturer from the market, then Medidart will intimate the purchased customer to replace it with a fresh batch free of cost.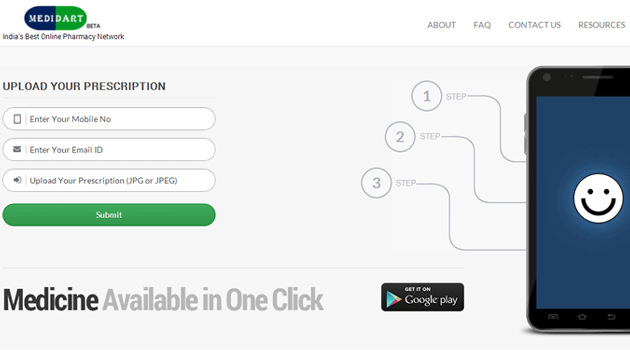 Taking a focused approach
Kesarla explained that while the initial plan was to build a platform for everything related to healthcare that integrates every stakeholder from the drug controller to the manufacturers, doctors and pathology labs, etc., they realised that it was better to fix a boundary for the first phase of operations and make a road map for all other things to fit in the future.
To scale up, the founders decided to focus on solving customer pain points, which can be achieved only by concentrating on one thing to begin with. While as of now the platform caters to prescription medicines only, it plans to add other services based on the feedback it receives from the customers.
Within a month of its launch, the company claims to be doing Rs 30,000 in GMV, of which it earns a margin of about 15 per cent. It is targeting Rs 10 crore in the financial year 2014-15, and is looking to break even in 2016. About 65 per cent of the total traffic comes through the Android mobile application, as it is easier to click and send pictures via a smartphone. Going forward, the company is also planning to launch iOS and Windows apps.
"We want to open fulfilment centres in every metro in the country for quicker delivery turnaround that is presently 24 hours. We are also continuously investing on making the platform much more robust, adaptable, intelligent, scalable and easier to use by both our channel partners and consumers. In addition, we are launching coupons to promote healthier use of the platform and a feature that suggest alternative cheaper drug or medicines to our users," Kesarla said.
Medidart competes with Intel-backed HealthKartplus.com, which also runs three offline stores apart from its portal. In addition to doctor prescribed medicines, HealthKart sells products in a range of categories such as fitness & nutrition supplements, sports nutrition, health devices, personal care, eye care & parenting, as well as the recently added home appliances section.
(Edited by Joby Puthuparampil Johnson)
---