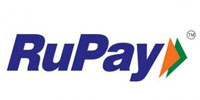 As many as seven million cards based on the indigenously developed card payment network RuPay, an alternative to the Visa and Mastercard networks, have been issued within one year of launch of the network, as per a government note.
RuPay, developed by the National Payments Corporation of India (NPCI), is the seventh such payment gateway in the world, which is largely dominated by global companies like Mastercard Worldwide and Visa Inc. The ​​Ru​P​ay platform was launched in April 2013 and offers a cheaper payment network compared to existing legacy networks.
The platform is already being used by major lenders in the country including ICICI Bank, State Bank of India and Punjab National Bank, for clearing and settlement.
Currently, RuPay card can be used for transactions within the country, and will soon be taken to overseas markets. The government is already in talks with Discover Financial Services in the US and JDC in Japan for partnerships, according to NPCI Chairman Balachandran M.
A variant of pre-paid RuPay card will be launched for the IRCTC platform which will enable users to book railway tickets using the RuPay-enabled card.
Some other customised variants being considered for the domestic market include launch of milk procurement pre-paid card by milk procurement agencies or grain procurement agencies in Punjab.
RuPay cards are accepted at all ATMs, more than 90 per cent of 'Point of Sale' (POS) terminals and more than 10,000 e-commerce merchants across the country. According a government official, public sector banks have already installed more than 25,000 RuPay cards-enabled ATMs, with more than 9,000 more to be installed in the current financial year.
The project was envisioned by RBI in 2005 and entrusted the task to NPCI soon after its operationalization in 2010. In an official statement the president of India said it takes usually five to seven years to build a fully functional card payment network but NPCI could make the RuPay service operational by April 2013.
Visa and Mastercard, the two most popular card payment network, have also been trying to boost their presence and suite of services. Mastercard recently acquired C-SAM Inc, a mobile wallet and on-device solutions firm founded by Sam Pitroda, advisor to the Prime Minister of India and head of the National Innovation Council. With this acquisition, Mastercard is looking to diversify into multiple sub-verticals in the financial services segment, including mobile wallets, to sustain its huge market share, globally.
---