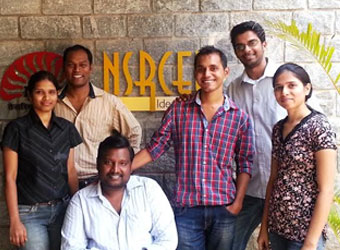 Corporates in the western world give paramount importance to the wellness of their employees. They get on board experts to run various wellness programmes, aimed at helping employees to reduce their stress level and help them maintain a peaceful and healthy mind. However, employee wellness has been secondary to most of the Indian companies, while in the organisations that are already running such programmes, the engagement has been abysmally low.
Bangalore-based zoojoo.be wants to bring a change to this trend. The IIM Bangalore incubatee has developed a cloud- and mobile-based workplace wellness platform that unites the workforce to drive wellness outcomes through social support and gamification. The platform also integrates analytics on its dashboard to give human resources (HR) teams and organisations an insightful view of their employees' engagement with wellness.
"Our product has brought in a major shift in the delivery mechanism of wellness initiatives for organisations. Unlike traditional programmes like expert talks and dietician calls, which had very low employee engagement, zoojoo.be uses game elements to make wellness fun and engaging. The user engagement on zoojoo.be is over 10 times that of traditional initiatives," claims its co-founder Avinash Saurabh.
The startup was founded in August last year by Saurabh (CEO) and Anandraj KS (product chief). A B.Tech in electronics and communication, Saurabh has over five years of experience in product development and had earlier worked at companies like BOSCH and Continental. Anandraj has over a decade of experience working as a product consultant for multiple companies and various startups. He holds a bachelor degree in Maths.
At zoojoo.be, employees can pick customised health challenges. They can also keep a track of their activities using its online tracking interface, and earn points. Users can also build a team by adding their friends at work to their profiles. They can also get admin access to the organizational-level analytics on a comprehensive dashboard & measure and control the impact of wellness on parameters like productivity, stress levels, etc.
The firm has already bagged four clients including Mindtree, Pantaloons, National Entrepreneurship Network (NEN) and Rang De. "At Mindtree, our solution has been able to unite over 12,000 employees across three continents and nine countries to drive common wellness outcomes," said Saurabh. The startup charges a per-user subscription fee from its clients.
With six people on board, zoojoo.be is mainly competing with companies involved in facilitating onsite programmes like dietician calls, doctor calls, and expert talks etc. According to Saurabh, there are some well-established players and local vendors, who provide these services to organisations.
Uber Health Tech Pvt Ltd, the company behind zoozoo.be has already received an undisclosed amount as seed capital from its mentors including K Srikrishna, executive director of NEN; Bikash Chowdhury, director of marketing at InMobi; M Chandrasekaran, director of Manipal Health and Education; and Rajagopal G, group head of Samsung. "We are now looking to raise around $150,000 in angel funding this year, which will primarily be used to ramp up our sales team," said Saurabh.
---