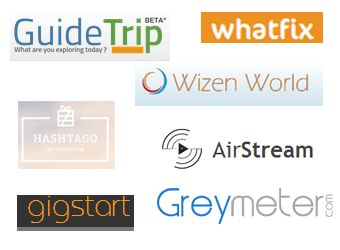 GSF Accelerator, a startup accelerator launched by former Reliance Entertainment president and GSF Superangels founder Rajesh Sawhney, has picked 11 startups for its newly-launched global programme. During the 13-week programme, the startups will go through an intense mentoring and coaching, starting with five weeks in India, followed by four weeks in San Francisco, two in New York, and one each in Toronto and Singapore.
The startups will be mentored by a diverse group of entrepreneurs and industry experts, and will be connected with angel investors, and seed & venture capital firms.
"The selected startups have diverse business models and target markets. However, the common factor between all the startups selected for this programme is their vision to go global," said Sawhney.
Here is a quick look at the startups selected for the programme:
TripMD: A medical travel co-ordination platform that helps patients avail healthcare options outside of their home country at medical facilities globally.
Greymeter: An interactive talent community, where organizations crowd-source real-world challenges to get innovative solutions while students earn rewards.
GuideTrip: A global content-driven online platform, which helps in connecting travellers with guides.
GigStart: A marketplace that connect entertainers with party planners.
pxify: Building a free graphic design programme, which integrates collaboration features so that design teams and clients can work alongside one another.
WhatFix: A SaaS-based customer engagement platform that helps business on board their customers and provides interactive knowledge flows to enhance product adoption.
WizenWorld: A gaming startup that teaches math & science concepts to middle-school students through engaging multi-player games.
Daily Rounds: A mobile app learning platform for doctors to review clinical patient case studies.
Cuztomise: Helps field service businesses to reduce their operational costs by its workforce scheduling and optimization, through its app and platform as a service (PaaS) offerings.
AirStream: Enables accessing files & streaming media from multiple computers and multiple cloud services like Dropbox, Google Drive through a single app on any mobile device.
Hashtago: Develops core technology for hashtags mining, tracking, targeting and analytics for B2B solutions and customer-oriented services.
GSF's global programme, launched early this year, aims to provide a platform for tech entrepreneurs from India and the emerging world to incubate, develop and establish themselves in the global markets. GSF also aims to integrate the Indian startup ecosystem with leading tech hubs in the world.
---