PolicyBazaar goes beyond insurance services; launches PaisaBazaar to offer financial advisory solutions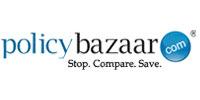 Guragan-based eTechAces Marketing and Consulting Pvt Ltd, the company behind the online insurance policy aggregator PolicyBazaar, has now gone beyond the insurance vertical and launched a new platform called PaisaBazaar to offer financial advisory services to customers.
According to the firm, the insurance business has limited opportunities because of the regulatory concerns, and therefore it is looking at a whole new space of financial advisory to enhance its revenues. PaisaBazaar will look at selling loans, credit cards, mutual funds, corporate deposits, gold funds and exchange-traded funds (ETFs).
"The new platform is focussed on loans and non-insurance products. This is owing to government regulations that do not allow loans on PolicyBazaar," co-founder and CEO Yashish Dahiya told Techcircle.in.
Started in 2008, the company's flagship product PolicyBazaar offers comparison of various insurance policies and loans based on price, quality and key benefits, in addition to helping consumers with analysis of financial products based on the same parameters. The platform boasts of over 20 million unique visitors each year and sales of over 20,000 policies per month. According to the company, 80 per cent of their customers have families and they are in the age group of 25-45 years.
In May this year, PolicyBazaar had raised $20 million in its Series C round of funding. Earlier, it had also roped in Naveen Kukreja as its CMO for the non-insurance business.
Comment(s)