What is Modi's game plan for digital revolution?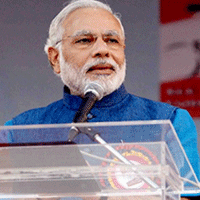 The Union Cabinet has approved the 'Digital India' programme, which aims to connect all gram panchayats by broadband internet, promote e-governance and transform India into a connected knowledge economy. Under the programme, various projects worth about Rs 1 lakh crore would be undertaken to transform the country into a digitally-empowered knowledge economy.
The primary aim of the project is to make sure that various government services are available to citizens electronically and help people gain benefits from the latest Information and Communication Technology (ICT). Announcing the initiative, Prime Minister Narendra Modi said that digital India encompasses a time when the common man is able to track the government's works via his mobile.
Under the mission, the government also aims to make 10 lakh citizens digitally literate across the country. It also includes creating digital identity by making all documents, certificates available on cloud, making financial transactions electronic and cashless.
The mission envisages connecting 2.5 lakh villages by broadband and phones, reduce import of telecom imports to zero, wi-fi in 2.5 lakh schools, all universities, public wi-fi hotspots for citizens and creating 1.7 crore direct and 8.5 crore indirect jobs.
The Digital India initiative, which would be implemented in a phased manner by 2019, also includes various ongoing schemes being run by the telecom department and the Department of Electronics and Information Technology (DeitY).
 (With inputs from PTI)
Comment(s)