ICICI Bank launches cardless cash withdrawal scheme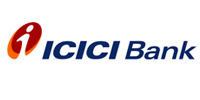 Mumbai: The ICICI Bank on Wednesday launched a facility under which an account holder with it can transfer money to a mobile phone user in the country even without the latter having an account with any bank.
A customer having a savings account with the country's largest private lender can initiate a fund transfer using online banking by giving only the mobile number and address of the beneficiary, ICICI Bank said in a statement in Mumbai. For availing of funds under the 'Cardless Cash Withdrawal' scheme, the beneficiary need not have an account with any bank, it said. A secure six-digit code gets sent to the mobile number of the beneficiary, who can withdraw the amount from any of the bank's 10,000 ATMs, using that number, it said.
The money has to be withdrawn within two days of the transfer. "We foresee tremendous growth potential in the usage of electronic payments. This innovative service will further empower our customers as well as their families and friends by giving access to instant money even without having a bank account or a debit card," ICICI Bank executive director Rajiv Sabharwal said.
Comment(s)