One in 25 mobile users in the country used mobile banking services last year and even though the value of transactions through the mobile rocketed almost four times, the growth in number of users and the volume of transactions slowed down in FY14 over FY13, as per data collated by the Reserve Bank of India.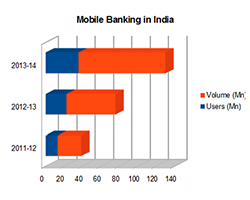 The value of money exchanged through mobile banking rose to Rs 22,438 crore ($3.7 billion) during the year ended March 31, 3014, recording growth of around 275 per cent, as per a presentation by RBI deputy governor Harun R Khan.
As many as 35.53 million customers used m-banking services in the country during the period of total mobile subscribers of 904.5 million. This means around 4 per cent of mobile subscribers used mobile banking against 2.6 per cent the previous year and just 1.4 per cent in FY12.
The growth in value of transactions was equally strong in the previous year rising 229 per cent in FY13 over FY12. This accelerated last year.
However, the growth in the number of m-banking users grew at a slower pace. The m-banking users rose 57.84 per cent as against 73.7 per cent the year ago.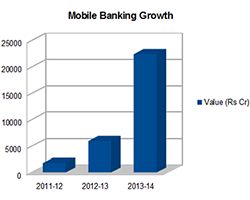 At the same time the volume of m-banking transactions, which had more than doubled in FY13 to 53.31 million, grew at a relatively slower rate of 77.66 per cent to 94.71 million last year.
This implies the existing users are gaining confidence to transact larger amounts.
RBI's Khan said that despite a very high mobile density in the country, the potential for leveraging on this technology for offering financial services is largely yet untapped.
He pointed out that the data underscores the need for active collaboration between banks and telcos – irrespective of the channel through which such services are provided, such as SMS, applications and unstructured supplementary service data (USSD).
He noted that from a regulatory perspective TRAI has set the ceiling tariff for USSD-based mobile banking services and RBI has taken steps to provide accessible, convenient as well as cost effective services to mobile banking customers.
Khan said there is a need to create more public awareness through a sustained centrally orchestrated common marketing campaign for popularising USSD and that banks need to see mobile banking channel as a cost saving avenue (reduction of cash handling charges) rather than revenue generation vertical.
Recently the country's top lender State Bank of India (SBI), claimed to be the market leader in mobile banking and said it has 50 per cent market share in this segment. It said it has 11.5 million registered mobile banking users attributing the numbers to RBI's data.
(Edited by Joby Puthuparampil Johnson)
---