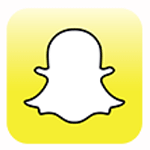 Snapchat, a photo messaging application, has partnered with payments processing firm Square to launch a peer-to-peer (P2P) money transfer service. Called 'Snapcash', the service will enable its users to send money to another user via the messaging platform, the company said in a blog post.
The service is currently available to Snapchat users only in the US, who have a debit card and are over 18 years in age. It is not clear if the company has immediate plans to expand Snapcash to foreign markets including India.
"We are launching our first product created in partnership with another company. We are huge fans of the folks at Square and have been big admirers of Square Cash since it launched," read the blog post.
How it works?
To use Snapcash, a user needs to enter his/her banking details into their Square Cash profile. Post that they will be required to type in the dollar amount in a private message. The app recognises the amount and a green payments button appears. The user can then simply tap on the button to complete the payment.
"After you enter your debit card, it's securely stored by Square, who will swiftly process your payment and send cash directly to your friend's bank account. Just swipe into chat, type the dollar sign, an amount (like $11.25), and hit the green button," it further read.
Snapchat was founded in 2011 by Stanford University students Evan Spiegel, Bobby Murphy and Reggie Brown. It is a photo sharing app that can be used to click photos, record videos, add text and drawings and send them to friends. These photograph/videos will then disappear from the recipient's device after a few seconds.
According to Snapchat, its users send 700 million photos and videos on a daily basis.
The company had shot to fame after it reportedly refused a $3 billion acquisition offer from Facebook. In January this year, Snapchat's said that its server was hacked by an anonymous group called Snapchat DB.
---