The rapid growth of social media has increased the number of friends we have today, and we often save their contact details in our smartphone's phonebook. However, it is a challenge to keep this phonebook updated, since we have to manually make changes in our friends' contact details each and every time.
Bangalore-based startup Abhriya Pte Ltd has come up with a solution to address this challenge. The startup has developed a self-updating phonebook app called 6degrees that ensures that your friends' contacts on your smartphone are always up-to-date.
"The phonebook is a critical part of our modern-day personal network. We want to make this more connected, but still private. Our aim is to help users access their own private, personal network from their phonebook," said Niranjan Rao, co-founder, Abhriya Pte Ltd.
The startup was founded in December last year by Rao and Arun Samudrala. An IIM Ahmedabad alumnus, Rao was previously vice president at Morgan Stanley. Before that, he was working as a senior analyst at Merril Lynch. Samudrala is an alumnus of University of California, and had earlier co-founded United Mobile Apps. Prior to that, he had worked at companies like Beceem, Ittiam Systems and Wipro.
How it works?
With 6degrees installed, you can maintain own 'live profile' on your device. This acts as a master copy of your contact on all your friends' phones. The friends on 6degrees who already have your phone number or email ID on their phone, will be able to see the 'live profile'. You can further decide who sees/doesn't see your profile using the privacy features. When you update your live profile, the friends get an automatic update, and a notification.
According to the founders, users can also search for people via their friends' phonebooks. They can also search for shops & restaurants, or request friends for their contacts. For privacy reasons, users can also hide any contact they don't want their friends to see in their searches.
6degrees also lets you update your contact details on your friends' smartphones remotely by simply updating your 'live profile' on your own phone. If your friends use 6degrees, your phonebook will stay self-updated without any effort from your side.
"Ultimately, the goal is to help you access more information through your trusted private network. Whether you are looking for a person, a nearby café, or a plumber, asking an existing friend is a better way of getting that information," said Rao.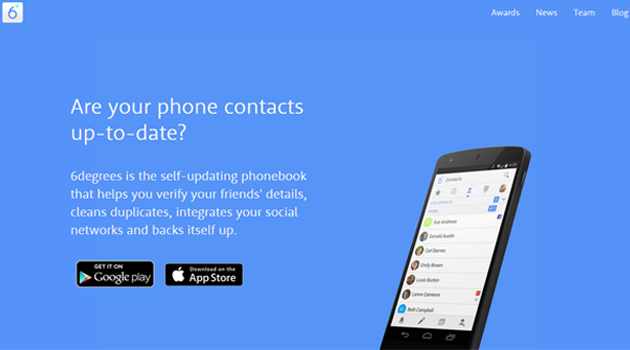 "When a friend tells me he/she likes a café, I am more likely to trust that since it's a highly private and secure referral," he added.
The app can also delete duplicate contacts on your phone, and aggregate/view your friends' social network profiles in your phonebook itself -- as part of their contact details.
Still in beta, the app is currently available on Android and iOS platforms. Rao claims that the app has already got 5.5 million contacts from 14,000 users across 90+ countries.
The startup had recently also partnered with Indian smartphone maker Lava International, which would integrate the 6degrees app with all its upcoming XOLO branded devices. With this integration, XOLO users can sign-up to 6degrees directly from their phonebook. 6degrees is also in talks with various device makers in Asia (including India) to integrate the app in their devices.
A self-funded startup, 6degrees had received a grant worth SGD 50,000 (under $40,000) from Singapore government early this year.
---