Rewind 2014: Top VC investments in SaaS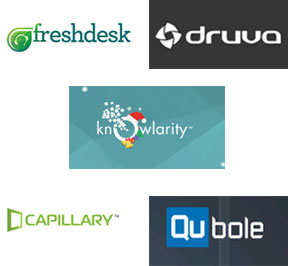 2014 has been the year of e-commerce in India, with major companies like Flipkart and Snapdeal grabbing the headlines with their fundraising rounds that ran into billions of dollars, mainly from top-notch investors. Although these and some other consumer internet ventures such as Olacabs, Zomato and others grabbed headlines, there were some significant fundraising for enterprise firms, especially those in the software-as-a-service (SaaS) field.
Indeed, it has been a good year for home-grown SaaS businesses, too, with firms like Freshdesk, Druva and Capillary raising millions of dollars in funding and growing their client base. Unlike the heavily funded e-commerce players in the country, many of the SaaS players made a mark in foreign markets.

Here we bring you the top 5 investment deals in the Indian SaaS space in 2014.
Founded in 2010 by Girish Mathrubootham and Shan Krishnasamy, Chennai- and US-based Freshdesk Inc provides customer support solutions to enterprises. A cloud-based platform, Freshdesk aims to make it easy for brands to talk to their customers and for users to get in touch with businesses. It raised $31 million in its Series D round of funding led by existing investor Tiger Global Management. The round had also seen participations from another existing investor Accel Partners and new investor Google Capital. This funding brought the total fundraising by Freshdsesk to $44 million.

Founded in 2008, Pune- and Silicon Valley-based Druva Inc offers SaaS-based backup solutions to enterprises. It provides solutions to mid-to-large enterprises that have more than 200 users through inSync, an integrated suite of endpoint data protection and governance solutions that safeguards corporate information assets on desktops, laptops, tablets and smartphones. In August, Druva secured $25 million in its Series D round of funding, led by Sequoia Capital with participation from existing investors including Nexus Venture Partners and US-based Tenaya Capital. As of August, Druva had 3,000 customers with 2.8 million devices across 76 countries under protection. Its customers include Dell, Hitachi, Kronos, Pfizer, Reckitt Benckiser, RHI and Shire, among others.

Founded in 2009 by IIT-Kanpur graduates Ambarish Gupta and Pallav Pandey, Knowlarity Communications Pvt Ltd is a SaaS-based cloud telephony firm providing voice and data communication services over the internet to companies and individuals in India and Indonesia. In July, Knowlarity had raised $15 million in its Series B round of funding led by Mayfield Fund, with participation from existing investor Sequoia Capital. Operationally based out of Gurgaon, Knowlarity claims to have over 7,000 clients across 66 countries. Earlier this year, Knowlarity had acquired Delhi-based cloud telephony startup Unicom for an undisclosed amount. Knowlarity, which has its headquarters in Singapore, also has offices in Gurgaon, Mumbai and Bangalore.
Bangalore-based Capillary Technologies Pvt Ltd is a SaaS-based CRM solutions provider. Set up in August 2008 by IIT Kharagpur alumni Aneesh Reddy, Krishna Mehra and Ajay Modani, Capillary helps retailers engage with customers through mobile, social and in-store channels. In July, the firm had raised $14 million in its Series B round of funding led by existing investors Sequoia Capital and Norwest Venture Partners (NVP). This funding came barely five months after the firm netted $4.5 million in funding from American Express Ventures. Capillary caters primarily to the clients in the retail market with 40 per cent revenues coming from apparel, fashion and shoes; 30 per cent from food retail; 20 per cent from white goods and electronics and remaining 10 per cent from pharmacies and hypermarkets which is a relatively new segment and is growing. Capillary's platform powers more than 150 major brands across 10,000 retail locations. Its clients include Pizza Hut, Benetton, KFC, Puma, Marks & Spencer and Lacoste.

Bangalore- and US-based Qubole Inc. offers a platform to empower developers and non-developers to access Big Data generated by their companies to gain insights at a cost-effective rate. Early this month, the firm secured $13 million in its Series B round of financing led by Norwest Venture Partners. The firm was founded in 2011 by IIT Delhi alumni Ashish Thusoo and Joydeep Sen Sarma. Its flagship product, QDS, runs on Hadoop infrastructure where users can analyse and collaborate with their company's data. QDS helps IT organisations use cloud infrastructure (Google Compute, Amazon Web Services or Azure) to access data while eliminating expenditures associated with maintaining hardware. Qubole's clients include Pinterest, Quora, MediaMath, TubeMogul, Answers.com, Videoplaza and Pubmatic.
---