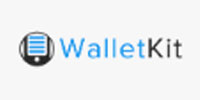 Chennai and San Francisco-based Walletkit Inc is pivoting from its existing core product which is a SaaS-based platform enabling businesses to design and deliver digital passes and tickets for mobile wallets. The firm is now working on a messaging platform.
The existing product helped businesses design and distribute mobile passes to its customers and visualise results. It also automated custom pass delivery along with flexible API's that made custom integration.
When contacted by Techcircle.in, Kevin William David, co-founder, Walletkit Inc, said the firm would not provide further updates to Walletkit as a product.
"We stopped working on Walletkit since there was less adoption among both consumers and merchants globally for both Apple Passbook and Google Wallet," he said.
The team is now launching the Alpha version of a chat app, informed David. He did not share further information on the new product.
The company was founded in mid 2012 by computer science engineers David and Ramakanth Dorai. Walletkit was a part of the fifth accelerator batch of 500 Startups.
But added that 500 Startups continues as an investor and holds 5 per cent stake in the startup.
When contacted, Pankaj Jain, venture partner, 500 Startups, said that out of the 25+ investments in India, a few products haven't worked out as planned early on and it fits in well with the seed fund's model. "Failing fast and avoiding falling into zombie land is not easy. It is very easy for failed companies in India to remain zombies for a very long time because of low burn rates. We're happy that our founders have avoided that trap and start working on new opportunities that we can continuously work with them on," he added.
This is not the first Indian venture backed by 500 Startups to pivot or shut down. Around a year ago, Seat14A.com, an online private label menswear brand had also shut down. Some of the company's founders have now started their own ventures. Among them, Tarun Arora is the co-founder of Snapdeal founders' backed party planning marketplace Gigstart; Jas Banwait is a startup consultant; Aditya Sahay is co-founder of enterprise problem-solving platform Convflow.
500 Startups is a venture capital seed fund and startup accelerator based in Silicon Valley. It has invested in approximately 900 technology startups globally since its inception in 2010. A team of 40 people manages seed investments in 10 countries. The firm also runs accelerator programmes in the San Francisco Bay Area in the US and Mexico City in Mexico emphasising internet marketing and customer acquisition, design and user experience, and lean startup practices and metrics.
In 2012, 500 Startups had floated 500 StartupWallah, an India-focused micro venture fund, with a target corpus of $5 million. Although it never made a formal closure announcement of the fund, last November 500 StartupWallah invested in Pricebaba.com, a location-based price search engine for mobile phones.
Till now, 500 Startups has funded over dozen startups in India, which include companies like computer vision firm gazeMetrix, P2P online marketplace Instamojo and newsletter publishing site Tradebriefs.com, among others.
PS: This article has been modified from its original version based on fresh inputs.
---