Within a month of introducing the feature across Europe, Google Maps has now launched voice-based lane guidance in India. Using the feature, people will now be able to see and hear voice-guided instructions signalling which lane they should stay in or move to while in navigation mode. As of now, the feature is available within Google Maps for mobile on the iOS and Android platforms.
Note that users must have GPS on their device to use navigation.
"Our goal is to continue making Google Maps for mobile into a handy travel companion for your daily commutes and trips around India, and we hope the new lane guidance will help make road travels easier to navigate for English and Hindi speaker across the country," said Suren Ruhela, director, program management and product manager at Google (India Maps).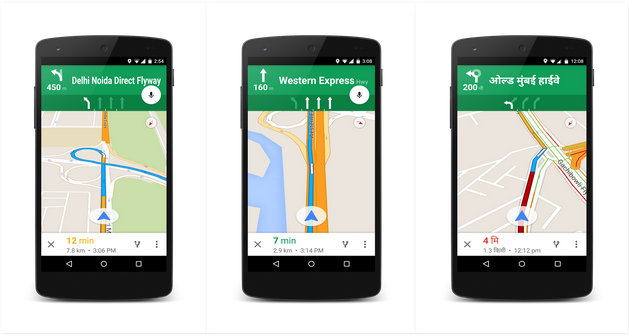 The feature will be available for major roads across 20 Indian cities that include Ahmedabad, Bangalore, Bhopal, Chandigarh, Chennai, Coimbatore, Delhi, Hyderabad, Indore, Jaipur, Kolkata, Lucknow, Mumbai, Mysore, Nagpur, Pune, Surat, Thiruvananthapuram, Vadodara and Visakhapatnam. It will also be available on major expressways including the Mumbai-Pune expressway.
"Let's say you are commuting to Noida via the Delhi-Noida direct flyway or taking the Western Expressway to get to Mumbai airport. Using navigation on Google Maps for mobile, you can get turn-by-turn voice guidance on how to get there as quickly as possible. Now, as you approach any upcoming manoeuvres, the new lane guidance feature will also display and provide voice-guided instructions highlighting the recommended lane you should be on to get to your destination," the company mentioned in an official blog post.
In order to make the information more useful, Google Maps is offering the turn-by-turn, voice-guided instructions in English as well as Hindi. If you would like to hear the instructions in Hindi, enable it as your preferred language. Android users can simply select the Hindi option within the 'language and input' menu found in their phone's settings menu.
"In addition to English and Hindi, you can also opt into the English (India) language preference on your Android phones to hear the voice-guided instructions spoken back to you in English in the Indian accent," further read the post.
Other countries where Google Maps already offers lane guidance include the US, Canada and Japan, etc.
Earlier this week, the search giant had introduced its 'Flight Search' feature in India, which enables users to search directly for flights within Google or access Google.co.in/flights to find, compare and book flights from their mobile device, tablet or desktop. Users can also save the itinerary to track its price and compare it with other itineraries, or share the same via a link or email.
---