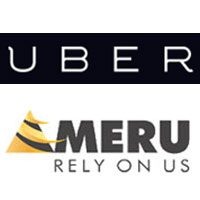 The organised cab business in the country seems to be set for a big consolidation with Uber now reportedly in talks to buy Meru while Olacabs is said to be eyeing TaxiForSure. For all we know these could be just rumours possibly meant to scupper independent fundraising plans of the individual ventures.
Both Meru and Uber have denied the reports calling it untrue.
Why would they do it?
But there are some compelling reasons why this could actually be on. For one, private equity firm India Value Fund Advisors (IVFA), which owns a majority stake in Meru, has been looking to exit the venture for quite some time. It originally invested almost a decade ago and its investment has matured. Even though PE firms are known to roll-over their investments to new funds when they deem it fit, those are rare cases.
Meru has come out of its bad phase after it moved on to pursue an asset-light strategy around three years ago. Although it boasts of being one of a few government approved radio taxi service providers (Ola, Uber and their pack are still grappling with claims by certain regional transport authorities who say they are not authorised to ply their trade), it has seen the likes of Ola disrupt the market without piling on cars in their garages.
The deal would give Uber ammunition to compete with Ola more aggressively. If Ola does acquire TaxiForSure, it could create a significant gap for Uber to catch up with Ola.
A possible deal to buy Meru would also get it the 'licence' which has been a contentious issue even as it is already operating in markets like Delhi, where it faced a temporary ban after a sexual assault by one of the drivers in its network on a passenger.
It certainly has the means to do it with multi-billion dollar valuation and free flow of cash every few months, including the recent funding. Uber has recently raised $1.6 billion in convertible debt from global investment bank Goldman Sachs' wealth management clients. This new round brings the total amount of funding Uber has raised to date to more than $4.3 billion.
What could the Uber-Meru cocktail mean?
The biggest question is why Uber should buy Meru, a legacy radio cab firm which still owns several thousands of cars. However, the business model can be easily pivoted by leasing out the cars to fleet ownership and management firms.
What's more, it could hive off the car assets into another company which could be sold off to another firm thus separating the cars from Meru's balance sheet. This is exactly what Flipkart did when it separated the legal ownership of WS Retail, its single largest vendor.
That would make Meru a marketplace like its other fast growing peers. Last year Meru's chief Sidharth Pahwa told us that around 60 per cent of the cars are not owned by the firm and that figure could well have got bumped up further.
So to that extent an acquisition of Meru would hardly count as 'unUber' or anti-Uber for the US-based cab hailing app.
The other and trickier aspect is of branding. One of the biggest assets of Meru is its brand. Having been one of the first large organised sector players in the radio taxi business it has been in the market long enough to become synonymous with cabs. At least till it was hit by the asteroid named Ola and others.
Uber can carry on with a dual branding for sometime before integrating or in other words killing Meru brand. As and when it goes for the integration, it would face a challenge of losing long time users of Meru to others like Ola.
Moving on to implications for the market and synergies, Meru would bring just five additional cities to Uber's fold as Uber is present in 11 cities while Meru is in 15 cities. Since there is a significant overlap, Uber will not get a significant leg-up in terms of presence.
The possible combination of Uber and Meru can mean a big deal for Ola and TaxiForSure (and also for their next funding rounds) as investors factor in their own take on the headroom to grow as fast given Uber's prospective move.
Whether or not Uber and Meru go ahead with a deal, which could well be a game changer, the cab booking market is set for more lively action this year and 2015 could just be the year which will filter out the winners and losers.
(Edited by Joby Puthuparampil Johnson)
---