Mobile ad network Seventynine pivots to an in-app video platform, what's on offer?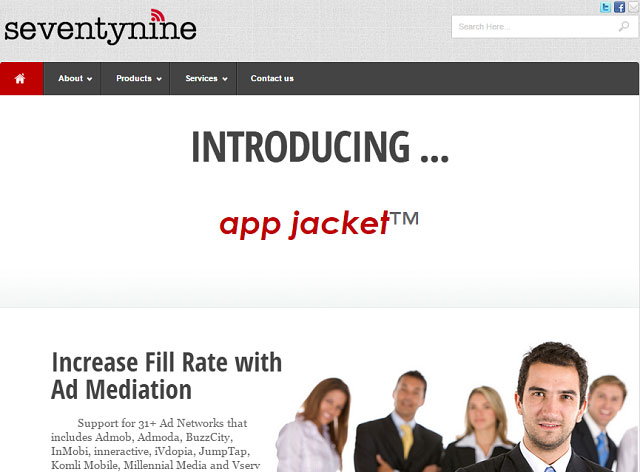 SVG Media-owned mobile ad network Seventynine has pivoted its business model and has become an in-app ad-serving platform focusing on video. The company is now offering its ad integration and monetisation platform 'Appjacket' as an independent technology platform for ad serving and mediation on a licensing based model.
Seventynine's technology will allow publishers to create custom ad spots at app start, app exit or native in-app locations, where they can choose to run one or more ad formats including high quality zero-buffer video ads, rich media ads (with multiple calls-to-action), interstitials, and static banners, etc.

"Appjacket ensures zero-buffer video ad delivery even on slow 2G networks, and is compliant with the minutest of targeting parameters as well as all major third party ad delivery and reporting systems," said Roshan Kumar, GM- media alliances at Seventynine.
"Instead of working on a hard-set model, we want to give app developers absolute freedom in designing their own ad platform replete with features related to different ad formats which can be switched between different types. App developers are also free to sell these custom offerings as per their understanding of their respective consumer bases," added Mustali Kachwala, CTO, Seventynine.
According to the company, as an in-app video platform, Seventynine will offer its technology and technical support to large app publishers who maintain their own sales teams.

In December last year, Smile Vun Group (SVG) Media, a joint venture between Manish Vij's Vun Network and Harish Bahl's Smile Group, had acquired Seventynine and digital agency NetworkPlay from Gruner + Jahr (the publishing division of European media conglomerate Bertelsmann AG).
While the financials of the deal remain undisclosed, a Times of India report had pegged the deal amount at around $15 million.
Gruner + Jahr had bought Seventynine from SVG Media for an undisclosed amount in November 2012. So SVG had essentially bought back the business from Gruner + Jahr.

Started in 2006, SVG Media is a digital media network with a presence in India, Southeast Asia and the Middle East. The company is serving business in over seven countries and houses performance, mobile, and data targeting businesses such as Tyroo, PrecisionMatch and DGM. Its clientele in the country includes companies like Flipkart, Snapdeal, Amazon, PayTM, MobiKwik, Myntra, Jabong, Citibank, and Standard Chartered Bank, among others.
---