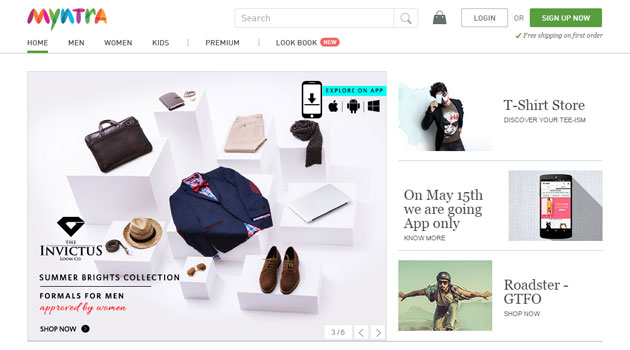 Flipkart owned lifestyle e-commerce venture Myntra Designs Pvt Ltd has made its mobile-push official with a public statement saying it will shut down its website to become a mobile only platform from May 15.
Even though several e-tailers and online transactions related firms have been reporting higher traffic from their mobile apps as compared to the web platform, this is a big and bold move by an e-commerce firm to go mobile-only. The success of this move may well ignite such shifts by other digital ventures.
One of the main reasons for this transformation is the conversion ratios with several firms claiming they get more serious shoppers on the app as against several 'window' shoppers on the web.
"This May 15th, 2015, Myntra is taking the first step towards the future of fashion shopping --- we move on from the desktop to being exclusively available on the app," the company said in an email sent to its customers during the weekend.
The mail added that this initiative is to ensure that the customers have a personalised and engaging experience through a device that is closest to the customer.
"We believe fashion is a very personal experience. Your sense of style, the brands you wear, the trends you choose to follow are unique to you. What inspires you to look good changes and evolves every day. The best fashion experience therefore, is a truly personalised and engaging one that is only possible through the device that is closest to you. A device that understands you – your mobile," it said.
Myntra essentially competes with Rocket Internet-incubated lifestyle e-tailer Jabong among others. It would be interesting to see how does Jabong react to the move.
The lifestyle e-tailer, which was acquired by Flipkart last year, has been building its tech capabilities in the mobile field. Early this month it acqui-hired m-tech startup Native5 Software Solutions Pvt Ltd as part of its mobile push.
Flipkart itself has been striking deals to bolster mobile related business.
Currently, Myntra and Flipkart's technology teams operate separately.
---