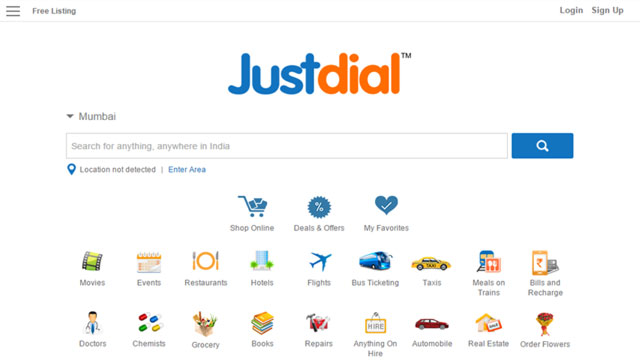 Online local business search engine company Just Dial Ltd posted a 38 per cent increase in net profit for the quarter ended March 31, 2015 to Rs 47.16 crore, partly boosted by 'other income' besides a reasonable growth in turnover.
The firm's operating income rose 25.8 per cent at Rs 156.28 crore during the quarter against Rs 124.21 crore in Q4 FY14.
Excluding the impact of other income, the firm's profit from operations rose a modest 10 per cent to Rs 36.4 crore last quarter.
For the full year ended March 31, 2015, the company reported a 15 per cent increase in the net profit at Rs 138.84 crore. The annual operating revenue increased by 28 per cent to Rs 589.80 crore over FY14.
V.S.S. Mani, MD and CEO, Just Dial Ltd said, "We have witnessed yet another solid year of growth and profitability. We continue to invest in building a great search plus product and we are now ready for the commercial launch of the same. We are confident that the Indian consumer will experience an easier, convenient, efficient way to perform online transactions and in the process save money and time, all on our single app/platform."
As of March 31, 2015, the company said it was conducting approximately 3,31,200 campaigns for its paid advertisers as compared to 262,150 campaigns as of March 31, 2014, representing a Y-o-Y growth of 26 per cent.
During the quarter under review, its database consisted of approximately 15 million listings as compared to 11.8 million listings during the previous year end.
It currently has 24 search plus services live on the platform.
Founded by Mani in 1994, Just Dial is a local search firm that provides listings of small and medium businesses across the country.
Lately it has been expanding its business by adding transaction services for its merchants allowing consumers to buy products and services from third-party vendors like a marketplace. With the most recent addition of products, it has become the first significant listed firm involved in product e-commerce marketplace.
Last month, one of the early investors of the company, Tiger Global exited from the firm.
Meanwhile, the company said that a meeting of the board of directors will be held on June 4, to consider the proposal to buy-back the fully paid-up equity shares of the firm.
---