Exclusive: Kinnevik, new investors buy stake in Quikr from existing shareholders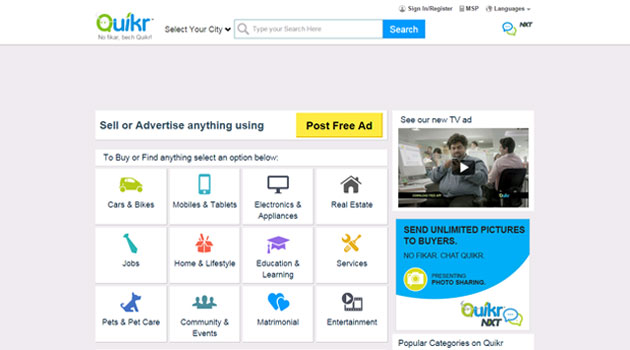 Swedish investor Investment AB Kinnevik has shelled out fresh money to raise its holding in classifieds site Quikr in a secondary transaction a few days ago, becoming the single-largest shareholder of the firm.
The secondary deal is believed to have seen some others, including new investors too, buy shares from existing shareholders.

The overall deal value could not be ascertained but around 6 per cent of the company's stake changed hands in the deal. Given the company's valuation of around $1 billion in the last funding round, the overall deal is estimated to be worth around $60 million.
Kinnevik shelled out $20 million more in the deal, it has said. It held 18 per cent stake in the company before this transaction. Its holding is believed to have pushed up to around 21 per cent.
It could not be immediately ascertained if some of the early venture investors sold shares in the transaction or the founders sold some of their stake.

Matrix Partners and Omidyar are the two oldest private investors in the company. An email sent to Matrix Partners did not elicit any response while Omidyar spokesperson said it owns 2.8 per cent stake in the company without clarifying if it has sold a part of its shares in the latest deal.
When contacted, Quikr's spokesperson acknowledged the secondary transaction but declined to elaborate. "A secondary deal of this nature demonstrates that there are multiple shareholders—outsiders as well as insiders—who want to buy shares of the company even when the company itself doesn't need more capital. Hence it shows the capital efficiency as well as attractiveness of a business. Further, this deal also enabled us to bring to India some investors who have never invested in the country before," the spokesperson said.
This indicates the firm has got new investors on board in this transaction.

The company's spokesperson added that none of the current investors has exited the firm in this deal.
This could imply the early investors part-exited or founders have sold stake or shares converted through stock options held by employees changed hands. However, given the quantum of stake involved it is likely that the investors sold part of their stake.
Meanwhile, Kinnevik said the deal valued Quikr at $900 million. Quikr was valued at $1 billion in its last funding round early this year. Quikr spokesperson, however, claimed that the latest deal was not at a lower valuation.

Founded in 2008 by Pranay Chulet and Jiby Thomas (who quit the firm later), Quikr was originally started as Kijiji India. It had initially raised an undisclosed amount in Series A funding round from Matrix Partners India in the same year.
In 2009, it bagged Rs 20 crore from Omidyar Network and Matrix Partners in its Series B round. A year later, it raised Rs 27 crore in Series C round in which eBay and Norwest Venture Partners besides existing investors participated.
Nokia Growth Partners, Norwest and eBay put in around $8 million in the firm in its Series D round in 2011 and the firm hit the big league as marquee PE firm Warburg Pincus led a $32 million round in the company.

The firm went on to raise $150 million across two rounds last year followed by another $150 million early this year as it added Kinnevik, Steadview Capital and Tiger Global as new investors.
---