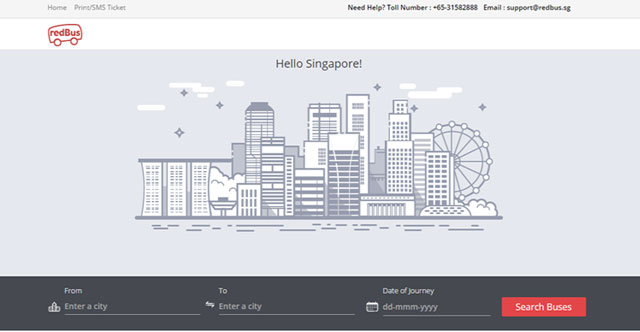 Online travel group ibibo, part of South African media conglomerate Naspers Ltd, is taking its bus ticketing service redBus to overseas shores by launching operations in Singapore and Malaysia.
redBus would enable travelers to book bus tickets between the two South-East Asian countries in addition to inter-city travel within Malaysia, as per a press statement.
redBus, which was acquired by the Gurgaon-based ibibo Group for an estimated $100 million in 2013, would offer its services in Malaysia and Singapore through www.redbus.sg and iOS/Android-based native mobile apps.
"This launch is yet another milestone in ibibo's journey. Ever since the acquisition in 2013, we have worked hard to build out the new global platform, mobile apps and a solid management and technology team lead by Prakash," Ashish Kashyap, founder and chief executive of Ibibo Group, said.
Ibibo expects the redBus global platform aims to support multiple currencies, languages, time-zones and integrate with international payment systems. The company aims to sell 100,000 tickets per day.
Since redBus was acquired by Ibibo, the bus ticketing platform has grown by 80 per cent year-on-year while commanding a market share of 75 per cent in India, he claims. The mobile platform now accounts for 40 per cent of all transactions.
"The bus market in many countries is similar to that in India, characterised by a fragmented bus operator base and largely unorganised or semi-organised. As a result, much of the ticket booking happens offline at the physical ticketing counters of the bus operators," Prakash Sangam, the CEO of redBus, said.
In the new launch markets, tickets can be booked either in Singapore Dollars or Malaysian Ringgits. Tourists from India can also book bus tickets for these countries by visiting www.redbus.sg or by changing the region and currency setting on the redBus apps.
In India, ibiboGroup owns properties such as online travel aggregator Goibibo.com, online bus ticketing platform redBus.in and travelboutique, a B2B online travel platform. Founded by Kashyap, the group also owns a minority stake in Naspers' global payments business, PayU Global. Recently it pulled the plug from its hyper-local grocery e-tailing venture Tradus.
Founded in 1915 and headquartered in Cape Town, Naspers, together with its subsidiaries, is a worldwide provider of e-commerce, pay-television and print media services. In addition to ibibo, Nasper also has positions in Indian firms OLX and Flipkart.
---