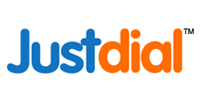 Online local business search engine company Just Dial Ltd, that is slowly trying to morph into an e-commerce marketplace, posted 18 per cent increase in net profit for the quarter ended June 30, 2015 on account of higher traction from paid advertiser campaigns.
The Mumbai-based firm recorded a net profit of Rs 33.17 crore against 28.11 crore reported in the corresponding year-ago quarter.
Income from operations increased by about 25 per cent to Rs 168.62 crore from Rs 135 crore in Q1 FY15.
The profit growth was relatively slower due to higher tax payout ratio and higher employee-related expense.
"We witnessed another quarter of steady growth and profitability. Our Search Plus transaction platform continues to show good traction. Our focus is to enhance user experience through investment in back-end infrastructure and we are confident of commercially launching it in the next few months," said VSS Mani, MD and CEO of Just Dial.
Operational stats
The company conducted approximately 3,46,900 campaigns for its paid advertisers compared with 277,950 campaigns in the year-ago quarter, representing a growth of 25 per cent. Campaigns are essentially paid featured listings/recommendations on JustDial's search platform.
It added around 15,700 paid ads last quarter sequentially against 18,400 paid campaigns in the quarter ended March 31, 2015. This was the slowest net addition to paid campaigns in five quarters.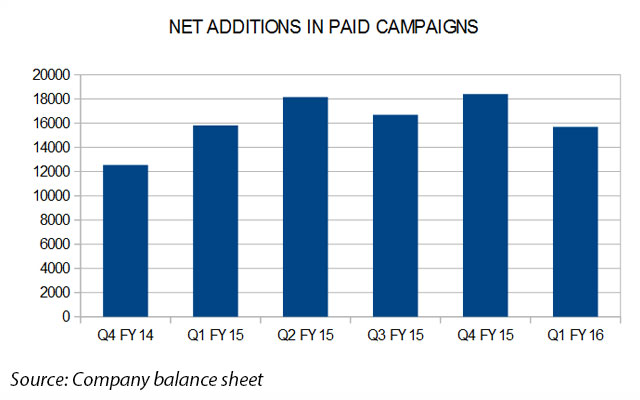 The number of total listings on Just Dial went up 9 per cent to 15.3 million (14.1 million), the statement said. On a sequential basis, it added 0.3 million new listings last quarter.
Just Dial's numbers were also aided by other income worth Rs 7.12 crore. This includes a write-back of excess provision for expenses of Rs 2.57 crore for the quarter ended June 30, 2015, as per the company's notes to accounts. However, this other income was higher in the year-ago period and to that extent the growth in net profit was lower.
The company's adjusted operating EBIDTA margin (excluding quarterly ESOP expenses of Rs 7.18 crore) expanded by 800 basis points to 33 per cent this quarter while net margin was maintained at 19 per cent.
The firm added one new category under its Search Plus services to take the count to 25 against 24 at the end of March 31, 2015 and 20 at the end of June 30, 2014.
The company has been preparing to launch a separate platform for all these services which has got delayed and is now expected to be unveiled this quarter. The Search Plus services are currently live on its existing local search platform.
Search Plus combines Just Dial's search services with transaction-based ones such as online food delivery, groceries, wine delivery, doctors' appointments, taxi bookings and online purchases of electronics, among others.
With this step, Just Dial is transitioning from being purely a provider of local search and related information to being an enabler of such transactions. Currently separate set of firms cater to products related sales (e-commerce) and booking local services. Just Dial is trying to integrate both in a single platform leveraging on its deep penetration with local businesses service providers.
---