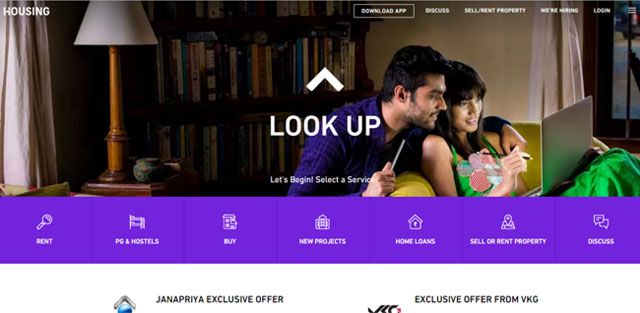 SoftBank-backed Housing.com aims to strengthen its foothold in the online reality space through monetisable partnerships, geographical expansion and team augmentation.
The ongoing efforts seem to be a part of Housing's reboot strategy necessitated after several months of top-level turmoil which concluded with the unceremonious exit of CEO Rahul Yadav, one of the 12 IIT Bombay alumni who founded the company three years ago.
After setting up presence in over 100 Indian cities, SoftBank is now eyeing the untapped reality market in smaller markets. A top company executive told Techcircle.in that the company intends to set up presence in about 70 tier-two and tier-three cities by the current year-end.
Also, Housing is in hiring mode. Besides hunting for a fresh CEO and CFO, the online reality portal is scouting for experienced hands to fill mid-to-senior level positions in technology, sales, data science, strategy, operations, design, human resources and marketing.
"We had recently hired nearly 90 new staffers, of which 85 were from IITs," the executive quoted earlier said.
Recently, Housing ramped up the strength of its technology team to 300 under Abhishek Anand, co-founder and chief technology officer.
The open feud between Yadav and investors of Housing reached the climax on July 1 when the company board finally fired him for questionable behaviour with investors, media and other stakeholders of the startup ecosystem. In a later interview given to Femina magazine, Yadav said he was sacked within five minutes of the July 1 board meeting and that his official e-mail ID was rendered inaccessible almost immediately.
Housing's chief operating officer Rishabh Gupta was appointed to lead day-to-day operations at the property search portal till the time a new CEO is inducted. Currently, Azeem Zainulbhai, chief of staff at Housing, is taking care of the finance function. The company may also look at hiring a new chief business officer as former Groupon India MD Trip Wagoner, who joined as chief business officer last year, left after a few months.
A few days after Yadav's sacking, the Housing website was hacked. While Yadav denied playing any role in the episode, cryptic messages posted on the website appeared to be an expression of solidarity to the co-founder and former CEO.
In fact, Yadav had confirmed in the Femina interview that the hacking was the handiwork of some internal employees. "It was nothing, just these guys from our tech team who did it," Yadav told the magazine.
Housing, which has a strong database of digital users, is exploring avenues to monetise its strengths in technology and data. As a first step in this direction, the Mumbai-based firm joined hands RE/MAX India, which is part of a global network of real estate consultants. The tie-up would allow both players to share listings with each other.
Following the RE/MAX tie up, Housing is keen to sew similar monetisation-friendly partnerships that will help it strengthen property consulting and last-mile services instead of concentrating only on verified listings. The company is talking to a bunch of realtors, builders and payment portals for the same, the official quoted earlier said, without divulging details.
Housing is managed by an executive committee that controls the finances and operations of the company. It is headed by Jonathan Bullock, the SoftBank executive on Housing board. SoftBank has a 32 per cent stake in Housing.
Sources said Housing, which raised $90 million from SoftBank in end 2014, is likely to look for another round of fundraising in three to four months. While SoftBank may participate in the next round if certain business targets are met, the Japanese telecom and internet conglomerate is unlikely to lead the round. A spokesperson for SoftBank said: "We never comment on speculation."
---