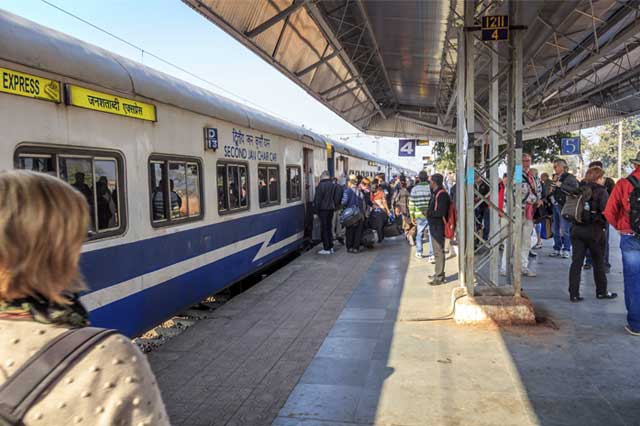 Monthly season tickets and platform tickets will soon go paperless as railways is planning to launch a mobile-based application for the same shortly.
Paperless monthly season tickets and platform tickets in cities like Mumbai, Delhi, Chennai and Kolkata are to be launched in next few days, Railway Minister Suresh Prabhu here today said while launching the paperless unreserved ticketing system for Delhi-Palwal suburban section here.
Prabhu also launched two other IT-based initiatives - cash/smart card-operated ticket-vending machine at the New Delhi Railway Station and a mobile app for freight operation monitoring named as 'Parichaalan'.
"There are about 75 lakh passengers who use monthly season tickets in Mumbai out of our total 2.3 crore daily passengers," Prabhu said, adding, "similarly a good number of passengers travel on monthly season tickets in Chennai, Kolkata and Delhi also."
He said the move to go paperless is part of the government's 'Digital India' initiative which not only saves the use of paper but also reduces the load on booking counter.
The IT-based mobile application for tickets will make paper manufacturers unhappy but passengers happy as it will save a lot of time for them, he said.
The paperless unreserved ticketing sytem in Delhi-Palwal section covers 11 stations over 57 km of distance. The app, which is for both Android and Windows-based platforms, can be downloaded from Google Play Store or Windows Store by the user.
The application provides necessary on-screen alerts to guide the passenger during the booking process.
Payment for the ticket is done through the "railway wallet" feature in the app. After booking the ticket, the passenger will get ticket confirmation screen, which will contain limited information about the ticket. Earlier, the mobile app for paperless unreserved ticketing system was introduced between Egmore and Tambram suburban sections in Chennai under Southern Railway zone on a trial basis in April. Then it was replicated in Western Railways between Churchgate and Dahanu section.
Developed by the Centre for Railway Information Systems (CRIS) "utsonmobile" - the paperless unreserved ticketing feature in mobile application aims to eliminate the need for printing of unreserved tickets. Prabhu said railways will sign an agreement with ISRO for using geospatial technology and satellite images in the rail sector.
As per plan, railways will use remote-sensing technology at unmanned level crossings to warn road users and also for other usage such as mapping of stations and rail routes in partnership with ISRO. He said cash/smart card operated ticket-vending machine (CoTVM) which was made operational at the New Delhi station will be installed at other stations also.
CoTVM is an unmanned self-operated kiosk which can be used by passengers themselves to buy unreserved tickets through currency/coins as well as smart cards. These kiosks have easy graphical interface for ticket transaction so that the user can operate these machines. The kiosk accepts currency/coin of all denominations of Rs 5 and above. The machine does not accept soiled/cut/glued/taped/colored notes and accepts currency notes of Gandhi series.
CoTVMs aims to reduce queue length at existing ticket counters by providing an alternate unmanned ticketing solution and mode of payment. Prabhu said both passenger and freight business are important for railways and the 'Parichaalan' mobile app for freight operators will help in real-time decision-making.
'Parichaalan', a user-friendly app, represents data in a pictorial and graphical manner that is easily comprehensible and also makes the information dynamic and current in nature in the freight sector.
---