Checking out what your favourite hangout spot has to offer on a Saturday night has just got easier with a slew of nightlife discovery apps listing events, lounges, clubs, gastropubs, gigs and many more. What's more they also offer exclusive deals, booking of tables, and even tell the customer the kind of music being played at a disco.
From Happitoo to OUWT to Instabounce, Partiko, Brisky, Towntrot, Nearify, Guestlistand many more, these apps have been catching the attention of the 20-35 age group, their target audience. A few have even managed to get investors to pump in funds. OUWT, owned by Yagerbomb Media Pvt. Ltd, recently raised $150,000 from a group of undisclosed investors. Happitoo, run by FNB City Media Pvt Ltd, also raised a seed round of $77,000 from Mumbai-based unnamed angel investors. Instabounce, meanwhile, was selected for a Rs 10 lakh funding at IIT Mumbai's startup showcase early this year.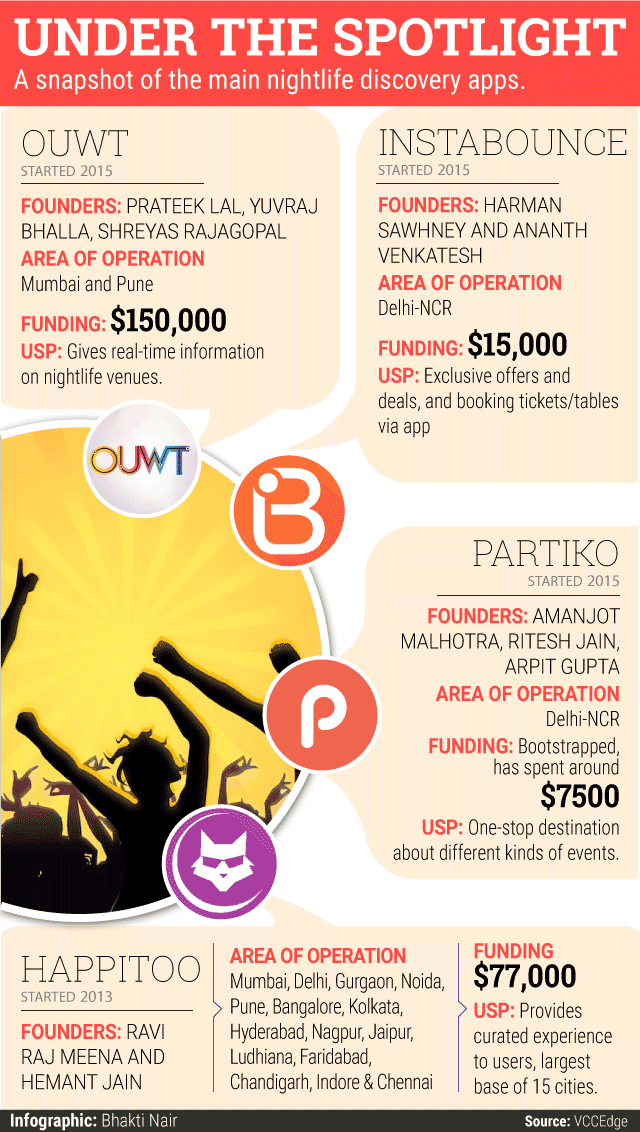 Sobering truth
However, as these apps expand beyond their home markets, they face the risk of stepping on each other's toes, and thereby undercutting each other. Most of them are running after the same set of youngsters in the metros and big cities and ultimately list the same clubs, discos and restaurants with a few variations.
That sobering truth is something the founders of these startups also realise. "There is a lot of information available online and enough platforms and venues to plan your night, just the way you want it to be," says Prateek Lal, co-founder of nightlife discovery app, OUWT.
"Customers tend to be aware about the events around, unless they are new to a city. So the future of such apps remains to be tested so far, as the nightlife business is entirely based on word of mouth," says angel investor Ajeet Khurana. The challenge is to get updated information and many venues are not up-to-date with the technology, he points out.
Standing out in the crowd
Offering a unique customer experience is the only way to ensure that the party never stops. OUWT, for instance, compares prices of alcohol available at venues located in the vicinity of the looked-up destination. It also allows users to search for hangout destinations based on the type of music played. "We even tell our users what dress code is to be followed," says Lal.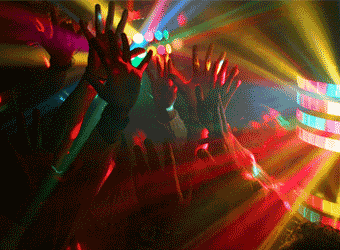 The GPS-enabled app lists about 300 venues from Mumbai. With 4000 registered users, the app has been accessed 16,000-20,000 times in the last two months, says the startup.
OUWT recently started operations in Pune, where it competes with Brisky which provides a comprehensive listing of events, offers, karaoke, ladies nights, DJ Night, sport screenings, etc. From entry fees to cover charges, happy hours and all other wallet-friendly offers, Brisky consolidates everything in one app.
Starting off with Happy Hour India which gave real-time happy hour listings and buffet offers available, FNB City Media has pivoted itself to become a nightlife discovery app, collating data based on consumer behaviour on the app and then throwing up curated recommendations. The app is also Uber-integrated to help customers catch a cab home.
"As per the mood and occasion keyed in by the customer, the app curates information to offer an amazing nightlife experience in six easy steps," says Hemant Jain, co-founder, Happitoo. It also gives real-time deals and offers.
Happitoo is present in 15 cities -- Mumbai, Delhi, Gurgaon, Noida, Pune, Bangalore, Kolkata, Hyderabad, Nagpur, Jaipur, Ludhiana, Faridabad, Chandigarh, Indore and Chennai.
A commission-based business model is what these nightlife aggregators are banking on. Besides the 10-12 per cent commission on transaction value charged from the merchants listed on the app, a listing fee also helps shore up the revenue. Some of them are looking at selling the user database and charging merchants for providing information based on user analytics.
According to retail consultancy Technopak, in 2014 the Indian food and service market was estimated at Rs 272,750 crore and is projected to touch Rs 505,000 crore by 2020. The organised PBCL (Pub, Bar, Club & Lounge) market was estimated at Rs 9,875 crore in 2014, and is expected to grow 10 per cent annually to reach Rs 17,850 crore by 2020.
Harman Singh Sawhney, who co-founded Splurge Entertainment Pvt Ltd, which runs Instabounce, in December 2014 with his Amity University batch mate Ananth Venkatesh, is focussing on the unsold inventories of nightclubs and bars, with tailormade discounts to entice customers.
"Instabounce is solving the pain points of both the customer and the event owner, as the nightclub can sell its unsold inventory and the customer can get it at a discounted price on the app. Such deals and exclusive offers will give users one extra reason to use Instabounce," he says.
Sawhney, who was earlier working with table reservation platform Dine Out, says 90 per cent of reservations at any event happens at the last moment. "So there was a lot of unsold inventory and we wanted to organise it. With Instabounce, users can not only book the event real-time but also get the confirmation in seconds."
"Our business is getting good response and reservations through Instabounce, as people are able to book events at the last minute as well," says Anuj Verma, operations manager at Club BW, a nightclub at The Suryaa, a New Delhi-based hotel. Club BW gets 30-35 people daily through Instabounce.
Instabounce has tied up with 40 event venues in the Delhi-NCR region. With 15000 installs, the company claims to be doing 4000-plus reservations a month, of which 70 per cent are repeat customers. The app receives 120-130 visitors daily.
Partiko, founded by Amanjot Malhotra, an IIT Roorkee alumnus, on the other hand, strives to be the one-stop destination for any event happening in a city. Delhi-NCR based Partiko Services Pvt Ltd ,which owns and operates Partiko, not only focuses on nightlife but also has dedicated options for startup events, college events, food events, marathons and more.
With 4300 downloads, Malhotra claims that there are 100 active users on a daily basis on the app.
Sawhney of Instabounce believes it is a winner-take-all market. "The competition is really tight in the nightlife space and those who will be able to provide a good experience to the customer will be the winners," he says.
Dr Aniruddha Malpani, lead investor at Mumbai Angels, who has invested in Instabounce, however, says there is a need for such startups in the otherwise unorganised sector. "The nightlife discovery apps are making the experience curated and more personal for a customer," he says.
---