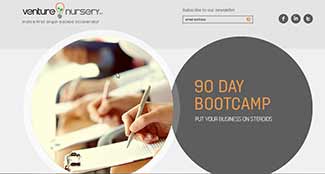 Angel-backed startup accelerator VentureNursery has signed a memorandum of understanding (MoU) with Paris&Co, an economic development and innovation agency backed by the French government, to help its graduating companies explore the French market.
Under the partnership, founders of VentureNursery alumni ventures can go to Paris, get a Paris&Co executive designated to be their local buddy and operate out of any of ten Paris&Co incubators for a pre-defined period, at no cost.
In addition, VentureNursery alumni get access to 200 startups in Paris, housed at Paris&Co, for sharing of knowledge and connections, avail business support services about doing business in France, and attend events conducted by Paris&Co free of charge.
Established in March 2012 by angel investors Shravan Shroff, founder and former MD of Fame Cinemas and Ravi Kiran, former CEO- South East & South Asia, Starcom MediaVest Group and co-founder and managing partner, Friends of Ambition, the accelerator has its base in Mumbai.
Any of the startup founders desirous of staying longer than three months to explore the market, conduct market research and build connections, can do so for up to 12 months at a preferred price, including subsidised residential accommodation, VentureNursery said in a statement.
In turn, VentureNursery will help Paris&Co incubated startups by offering work space in India at no charge, for a pre-defined period. VentureNursery will also offer advice on setting up, doing business in India and connecting them to India's entrepreneurial ecosystem. The visiting Paris&Co startups will also get access to VentureNursery events.
"Our partnership with Paris&Co will open up opportunities for our alumni ventures to explore international markets," said VentureNursery co-founder Ravi Kiran.
"The purpose of this agreement is to establish a mutually beneficial relationship for each incubator. This is part of our objective to internationalize the innovation ecosystem of Paris," Didier Guillot, president of Paris&Co, added.
Both partners will focus initially on startups in the IT, consumer technology, fintech, healthcare, cleantech, travel and tourism sectors. VentureNursery has mentored 21 startups, of which 16 have graduated and 12 are active and growing well. VentureNursery alumni ventures have created nearly 1,000 jobs.
VentureNursery alumni include branded budget hotel chain OYO Rooms, video interview platform Talview, fashion and lifestyle social commerce platform Klip, crowd funding platform Catapooolt, travel startup SeekSherpa, artificial general intelligence company InvenZone, last minute hotel booking company HotelsAroundYou, curated activity and hobby classes discovery company FindUrClass, on-demand beauty and wellness platform The Home Salon and on-demand service platform for handyman, repair and home maintenance services Fixy.
Paris&Co is the result of a merger between Paris Développement, the Parisian agency in charge of inward investment attraction and Paris Region Lab.
---